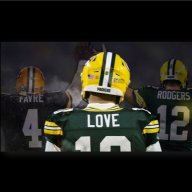 Joined

May 2, 2012
Messages

12,848
Reaction score

4,261
The 5 Love Languages Directions

When Love was drafted I think it is a safe assumption that nearly the entire Green Bay fan base paused for a moment before reacting...some were shocked that it actually happened, some were pissed, some were just speechless; needless to say it was one of the biggest "moments" in Gute's reign in GB. Speaking of Gute, for a man who has honestly excelled at so many personnel moves in his time, for some none of it matters because he drafted Love. That however is a discussion for another thread.

This thread however is to discuss the future of Love...what do you feel is the most likely scenario of the 5 options we now have before us as an organization that just inked Rodgers (or will be inking) to a new deal "rumored to be four years" but most likely will mean at minimum 3 more seasons with good health that Rodgers is in GB. How does that impact Love?

Love's contract for those perhaps not aware runs through the end of the 2023 season/year. The Packers after 2022, could exercise the fifth year option on him being a first round pick - BUT that would cost per some estimations of around $20M. It's tough to imagine the Packers doing that as that would be the third year of Rodgers new deal and even conservatively would mean around $45-$60M would be hitting cap just in the QB room.

So the first question I pose is the easiest one to answer IMO - do we franchise tag him?

I say emphatically no, and it isn't for any other reason than it would be fiscally ignorant to do so. None of us know (the organization would be only ones that truly might know) what Love really is...his rookie year was essentially a redshirt oddity with Covid, this last season was more "normal" but he still hasn't seen a true gameplan installed and know he was going to play for the entire week up to a game. He has struggled for sure, shown bright spots in camp and in some preseason games - but nothing to place the tag.

That leads us to what I believe are the five directions for Love and GB that are left....(in no specific order of my personal opinion)

#1
Love goes nowhere till his contract is up with no 5th year exercised. Agree/Disagree it doesn't matter, GB and staff have a young QB they believe in as their backup, which for 2022 and 2023 is rather affordable (hits of 3.37M & 3.94M). After the 2023 season anyone's guess is as good as another in this scenario....means we could get nothing in return other than backup service for years out of Love, or could end up that plus whatever compensatory pick he may bring signing elsewhere.

#2
Love is traded this year before trade deadline. Arguably this is the weakest QB class draftwise that we have had some are saying for over ten years....and get this....Love doesn't turn 24 till November - Pickett is actually older than Love turning 24 in June. Willis will turn 23 in May, Ridder 23 in August and Howell 22 in September. Love has two years, albeit not normal years, of NFL exposure and experience in an excellent system with an awesome QB coach and behind a first ballot HOFer...there is a lot to like about that vs a weaker class of college QBs to choose from. A bonus to the team trading for Love in this scenario is IF he lights it up, the team could choose to exercise his 5th year option...just to keep him in house for two additional years, with that next (4th) year still at a low figure and discussions can happen before that 5th year hits in guaranteed money (if I understand that part of things right). Either way having that option is the one bonus attractiveness here as well if you are a suitor looking at Love.

#3
Love is traded at the completion of this year/into next year. This scenario the suitor most likely will NOT exercise the 5th year and is purely looking at rolling the dice on a young QB, with unknown promise still that perhaps showed something to them in the previous (2022) season to catch their attention. Low cost/risk here and could in season or after a successful one then discuss a deal extension or new contract with Love should it work out.

#4
Green Bay keeps Love, exercises the 5th year option. I put it down, because it is an option and direction which exists...however outside of Rodgers waffling again or a catastrophic injury (knock on wood) in the 2022 season - it is a scenario with the new Rodgers deal coming that just makes very little sense. I know I said I wouldn't place personal opinion on these but I feel this direction has less than a 1% chance of occurring if placing percent likelihoods next to these.

#5
Love is the starter in GB for the 2023 season after Rodgers retires. This similar to #4 could happen, but I just don't see happening unless Rodgers rides off into the sunset after a SB win in 2022.



As for my personal bet, I'm struggling to figure out which camp I fall in between #2 & #3. There is sound fiscal logic behind #1, and doing #2 & #3 is in a way admitting a faulty pick - or some would argue it is. However, if I'm Gute I see it as you never expected Rodgers still in many ways had his best years ahead of him and/or that you would be able to retain him this long....so it is wise now to move Love and draft or sign a different back up. In the end, I think I'd be calling a lot of GMs this year given the draft class is so weak...you know even a team that is supposedly looking hard at Trubisky, he isn't going to cost a ton - bring in Love at a cheap value as well, and see how rises in the competition...or a team that truly doesn't expect to be in the hunt and with QB "need" like the Lions or similar team, Love for a year to see what you can get out of him is arguably attractive in a way. I think realistically the best GB could hope for in return for Love (which could be a thread in and of itself) is a conditional 2nd rounder + a 7th or so. I mean even Josh Rosen got a 2nd in return...which that is the most similar recent comparable trade we can point to. So you get a team that will give you a 7th and then a 4th that could conditionally escalate as high as a 2nd I believe personally you have to do it.

FTR, as I've harped and harped on...I liked Love as a prospect a LOT. He was my QB 2 in that draft, BUT I would have never traded up for him or picked him as I just felt it wasn't a need I perceived (clearly organization felt differently...who knows maybe justified and a ton has changed since). Jordan Love is a HIGH character young man, from my connections to the team he is loved by his teammates and the kid has ability for sure - love to see him get a chance at a shot somewhere else.


What do you predict happens?