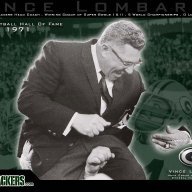 Joined

Jun 11, 2012
Messages

2,828
Reaction score

886
If Rodgers never wins another SB, that 2015 game against Seattle will stick out like a sore thumb. Your defense gives you five turnovers. And your star QB does nothing with it. I guess the only saving grace is we probably lose to New England anyway in the SB.

2007 doesn't hurt because that team would've been demolished by the Patriots. New England was a nightmare matchup for us. The Giants were the only team with the personnel capable of shutting them down.

SB 32 has to hurt the most. That team was outcoached and outplayed all day. I honestly think they got caught up in the NFC winning streak and thought they were going to walk all over Denver. Simply looked unprepared from the start.

Holmgren will not make the Hall of Fame. And that game is why.
And in SB 32 we played Denver because they escaped KC 14-10 in the AFC game. KC was the better team that year. I was more afraid of Schottenheimer and Derrick Thomas than I was of Elway and their coach. The year before in 96 we beat Denver 41-6 at Lambeau but lost 27-20 at KC. I even thought Parcells team the year before was better than Denver. But Favre made 2 critical errors in the first half. The INT deep in our end and the fumble when he did not see the safety blitz. Denver got a 51 yard FG. And after we forced Davis to fumble early in the 3rd all we got was a FG out of it.