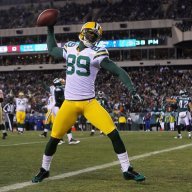 Joined

Sep 30, 2013
Messages

4,162
Reaction score

314
I don't rank them based on numbers necessarily, but how they impacted the team for each era they played in.

10 Best

10. TE - Keith Jackson: I put him up here because even to this day I say he's set the gold standard for TEs in Green Bay and could do a lot of everything

9. S - Leroy Butler: hands down the greatest safety to ever wear the green and gold, and of course invented the time-honored Lambeau leap tradition

8. QB - Brett Favre: some may object to his being this far down the list, but while he certainly was a big part of success here for 16 years, he was his own worst enemy who prevented the team from winning more Superbowls.

7. RB - Jim Taylor: his records may be broken by now, but I still gotta put him as the originator of the real Green Bay running game. He was the thundering bull while Hornung was the lightning ram.

6. WR - Donald Driver: we could pick any number of great receivers who brought the fire to Lambeau from Lofton, to Sharpe, to Brooks and Freeman, and even beyond that to Jennings, Cobb, and now Adams. But Driver was truly something else coming from obscurity at a little college called Alcorn State, to becoming one of our greatest targets who showed up week in and week out and was always ready to go. Gotta put him as the king WR here.

5. QB - Bart Starr: Still to this day the only QB in Green Bay with more than one SB win to his name

4. KR - Desmond Howard: there are only ever a few special teams return guys who come in either one generation or another and give you something truly spectacular to see, and this guy was one of them. He sealed the deal in SB XXXI and rightfully walked out of there with the MVP.

3. RB - Ahman Green: it was a shame we were never able to get this guy a SB ring, but even despite his fumble issues, Ahman Green should still be considered the best RB in Packers history. As soon as he touched that ball, look out.

2. QB - Aaron Rodgers: need I say any more?

1. DE - Reggie White: it continues to amaze me that he isn't talked about these days, and honestly, Mark Murphy needs to get on the ball and have a big 200 foot gold statue erected of him because yes, he is in fact the Greatest Packer of all time and anyone who says otherwise knows nothing about football and nothing at all for that matter. Not only was Reggie White the biggest sack machine and bull rusher in Packer history, he was the biggest catalyst for changing the culture here as the only voice in the locker room who demanded winning here. Everything the modern day winning Packers are built on was built by Reggie White.

10 Worst

10. LB - Datone Jones: likely forgotten in 10 years, but you know whenever his name is brought up, it's not for anything good.

9. QB - Rich Campbell: the Cal not-so-golden bear who unfortunately happened to don a Packer jersey

8. WR - Mark Ingram Sr: Actually did not realize he was the current NFL star RB's dad until looking him up, but ... he did practically nothing for us besides mouth off and give off toxicity here in Green Bay.

7. RB - Dijuan Harris: a guy with potential but no heart

6. DT - Jo Johnson: not sure whether he or Terry Glenn was the biggest disappointment as a free agent signing, but he sucked up a lot of money for nothing

5. S - Bewoh Jue: when you can make a guy like Kentrell Brice look like Troy Polamalu in his prime, you know you're a weak *** and a soft DB.

4. CB - Ahmad Carroll: if Reggie White was the icon of the greatest defense in Packers history, this guy was the exact opposite. Couldn't get rid of him quick enough.

3. QB - TJ Rubley: one simple job to do .... and he couldn't do it.

2. LB - Charles Martin: thankfully the culture he and his hoodlums promoted around here back in the 80s has long been eradicated. Unfortunately, his name is still known and makes you feel for Jim McMahon and his family.

1. QB - Brett Hundley: and taking home the award for being the biggest disgrace of a player here ... Brett Stinko Hundley. Any game film from this guy can be used as a teaching tool for Jordan Love on what not to do. Booyah!!!!