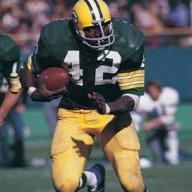 Joined

Jan 21, 2017
Messages

11,549
Reaction score

2,467
I wanted to get a sense for how the 49ers have been playing lately, so I did some digging into their last six games, including yesterday' playoff win.

This is a pretty solid sample, not just because it's recent, but also because four of the six games were against playoff opponents (Bengals, Titans, Rams, Cowboys). The only loss in this run was against Tennessee. The Niners only finished the season 10-7, but it's worth noting that five of those losses came in the first eight games. They have been very potent in the second half of the season.

So what have they looked like recently?

Points/Game: 24.5

Points/Game Allowed: 17.3

Net Pass Yds/Game: 254

Net Pass Yds/Game Allowed: 213

Net Pass YPA: 8.5

Net Pass YPA Allowed: 6.3

Rush Yards/Game: 137

Rush Yards/Game Allowed: 78

Rush YPC: 4.54

Rush YPC Allowed: 3.14

3rd Down Success: 46%

3rd Down Success Allowed: 43%

Basically the way that I'd boil it down is that their defense has been excellent down the stretch, which has allowed their offense to stay on its preferred script. Shanahan's preferred gameplan is probably something like 42/58 in favor of the running game. They aren't an effective team in the downfield or drop-back passing games. They thrive in the running game and the YAC game.

Their two best players on defense, Bosa and Warner, were both dinged up in yesterday's game (concussion and I want to say ankle, respectively). If they're limited, that will be a blow to their recent formula. Their weakness on defense is easily the secondary. Outside of Jimmie Ward, every regular contributor at corner or safety is below average to downright bad.

They've papered over that with ferocious pressure-- nearly 5 sacks per game in these last six outings. That's how they managed to edge out Cincinnati; Burrow carved them up (over 10 YPA, 2 TD, 0 INT) but took 5 sacks that killed drives.

If the Packers can protect Rodgers (and he can protect himself), he will shred their secondary. And if he does that, and puts their offense off-script, Garoppolo will fall apart. That's the path back to the NFCCG. If the offense sputters because of negative plays, and the 49ers can just lean on the GB defense, it's going to be a very long game.