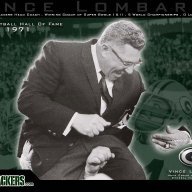 Joined

Jun 11, 2012
Messages

3,479
Reaction score

1,182
I remember that game. I did not remember the early 14-0 lead, although I'm sure most Packer fans were assured of victory. Well they were right, but it was a little more exciting than most of us thought.

And yeah, I'll take a cohesive team over an individual's talent any day. Look at Dan Marino. An incredibly gifted QB but without a team around him. Even Bart Starr needed Jerry Kramer on that cold, cold day at Lambeau.
Yes. Starr hit Dowler on a long one and we were up 14-0. We may not have ran up the score but we should have had a smooth win. The Cowboys could not move the ball at all and had several turnovers. But we helped them. Starr took a sack and fumbled for 7. Then Willie Wood muffed a punt and it is 14-10 at half. The Boys scored on a trick play to put us behind the 8 ball. But Lombardi overcame as he almost always did.