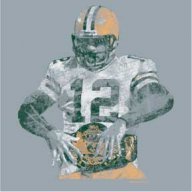 Joined

Sep 16, 2016
Messages

6,455
Reaction score

2,095
Year 3...let's see who has the crystal ball working!
Opening kickoff is a week from Thursday


Here's how it works. Each poster gives their prediction on the final record for the 16 game regular season. (example - 10-6). But seeing as how it's almost all but certain that multiple posters will predict the winning record, there are three tie breakers:
Tie Breaker 1:
When will the Packers be eliminated from competition (examples - miss playoffs, wild card round, divisional round, NFC Championship game, Super Bowl, Super Bowl champions)
Tie Breaker 2:
Where will the Packers
offense
rank in points per game among the rest of the NFL teams (example - 15th)
Tie Breaker 3:
Where will the Packers
defense
rank in opponents points per game among the rest of the NFL teams (example - 15th)
I'm curious to see where each poster feels like each unit will fare this season.
Also - this should be diverse enough to insure there won't be more than one winner. If the 1st tie breaker doesn't determine a winner, we'll move on to the 2nd, and so forth. Feel free to add additional predictions/comments about how you're feeling about the season after listing your predicted record, along with tie breakers.
To keep posters from editing, I will compile all predictions and edit it into this opening post. If a moderator would like to close the thread until the end of the regular season, that would be okay. I'll list each poster in order alphabetically.
Final predictions are due by 4 p.m. on Thursday, September 5th. Approximately 6 hours before learning that the Packers have started the season 1-0.

For those that aren't ready to give a prediction yet, I'll bump the thread periodically as needed.
The winner gets bragging rights for a year
---------------------------------------------------------------
AmishMafia - 10-6
TB1: divisional round
TB2: 12th
TB3: 14th
C-Lee - 11-5
TB1: Super Bowl champions
TB2: 10th
TB3: 13th
Candidate for Deletion - 9-7
TB1: wild card round
TB2: 10th
TB3: 15th
captainWIMM - 10-6
TB1: divisional round
TB2: 9th
TB3: 11th
Cheese Headed Monster - 9-7
TB1: miss playoffs
TB2: 17th
TB3: 10th
Croak - 8-8
TB1: miss playoffs
TB2: 12th
TB3: 16th
Do7 - 11-5
TB1: Super Bowl Champions
TB2: 7th
TB3: 10th
fistfullofbeer - 9-7
TB1: divisional round
TB2: 11th
TB3: 12th
gbgary - 8-8
TB1: miss playoffs
TB2: 13th
TB3: 15th
gonzozab - 8-8
TB1: miss playoffs
TB2: 14th
TB3: 23rd
G0P4ckG0 - 12-4
TB1: Super Bowl champions
TB2: 3rd
TB3: 8th
Heyjoe4 - 10-6
TB1: wild card round
TB2: 13th
TB3: 8th
Joe C. - 11-5
TB1: Super Bowl champions
TB2: 4th
TB3: 5th
lambeaulambo - 6-10
TB1: miss playoffs
TB2: 22nd
TB3: 27th
Matt39 - 7-9
TB1: miss playoffs
TB2: 19th
TB3: 19th
Mondio - 16-0
TB1: Super Bowl Champions
TB2: 8th
TB3: 6th
mongoosev - 15-1
TB1: Super Bowl champions
TB2: 31st
TB3: 1st
OldSchool101 - 11-5
TB1: NFC championship
TB2: 9th
TB3: 12th
PackAttack12 - 11-5
TB1: Super Bowl champions
TB2: 7th
TB3: 14th
PackerfaninCarolina - 10-6
TB1: Super Bowl champions
TB2: 11th
TB3: 12th
Pkrjones - 12-4
TB1: NFC championship
TB2: 10th
TB3: 10th
Poppa San - 13-3
TB1: Super Bowl loss
TB2: 14th
TB3: 9th
Quientus - 9-7
TB1: wild card round
TB2: 12th
TB3: 8th
lambeaulambo - 6-10
TB1: miss playoffs
TB2: 22nd
TB3: 27th
rmontro - 10-6
TB1: divisional round
TB2: 10th
TB3: 11th
Sanguine camper - 6-9-1
TB1: miss playoffs
TB2: 15th
TB3: 20th
scotscheese - 11-5
TB1: divisional round
TB2: 10th
TB3: 14th
stippe82 - 11-5
TB1: divisional round
TB2: 8th
TB3: 14th
SUGAMAN44 - 9-7
TB1: miss playoffs
TB2: 10th
TB3: 8th
TEXPAC - 11-5
TB1: Super Bowl champions
TB2: 6th
TB3: 9th
tynimiller - 12-4
TB1: NFC championship
TB2: 11th
TB3: 11th
XPack - 12-4
TB1: Divisional Round
TB2: 6th
TB3: 14th
Last edited: