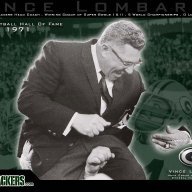 Joined

Jun 11, 2012
Messages

2,711
Reaction score

838
Your predictions are a little on the lower side (compared to others) but I think your O and D rankings aren't far off. I'm hoping they can have a #10 D, which would probably be good for two more wins.

I don't see them losing the NFC North. If they do it would most likely be to the Bears. Anyway, thanks for a prediction that is a little closer to reality or at least a little off the mainstream here. I've predicted two more wins (12) and a deep playoff run. That's optimistic and reflects the "homer" in me. I think they'll win the NFC North title and, at a minimum, make it back to the NFCCG. Although with that said, I'm not sure I could emotionally handle a fifth straight loss in the NFCCG. My therapist would be working overtime for a while.......
Still think it will be difficult to win 12 with the list of opponents. The opposing crowds back. We did not do bad with injuries the last two years. Not sure we will be as fortunate this year. Bahktiari will already miss the first 8 games. And one of my comparisons is that the AFC South is not as tough as the AFC North. And the NFC South is not as tough as the NFC West. Throw in KC on the road with Mahommes and it is tough.