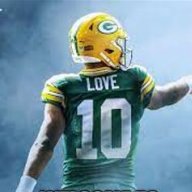 Joined

Jan 14, 2017
Messages

1,607
Reaction score

224
That doesn't change the fact that no other quarterback in the FBS threw that many in 2019.
Okay, sure. Let's base everything off of 2019 and ignore 2018 when he actually had a serviceable team around him and stability in the coach's room. He averaged a hair over 1 INT per game in 2019. Seems to me I recall we had a pretty damn good QB who also averaged a hair over 1 INT per game. THAT guy took us to two Super Bowl and won one of them and was a hell of a lot of fun to watch.
No one ever said Love wasn't a boom/bust prospect. But there is absolutely ZERO reason to call him a bust. If there's ever a place for that kind of QB to thrive, he's in the right one. Favre and Rodgers were also boom/bust guys.