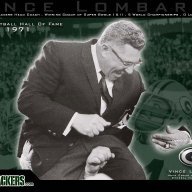 Joined

Jun 11, 2012
Messages

2,126
Reaction score

563
Yup. Had they left the Packers game at Noon, which is when it was scheduled, Seahawks would have been mad as well. Since a Packer win, makes their game meaningless.

Given that the NFL doesn't do what Major League Baseball does, start the final regular season games all at the same time and allows flexing by Networks during the final week, this situation is set up to happen. Of course Networks were drooling over the Packer-Lion game, it has the potential to have the most suspense. All these conspiracy theorists claiming the NFL is only doing this because they love the Packers...LOL....they are doing it because it makes the most economical sense.
And most of the Lion-Packer season finales have been insignificant except for playoff jockeying. 2014 comes to mind. Or we can go back to 1993.