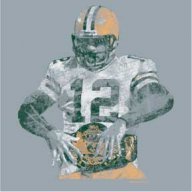 Joined

Sep 16, 2016
Messages

6,490
Reaction score

2,148
Well I proclaimed the season was over when the Packers were down 28-14 in the 4th quarter. I now proclaim the season anything BUT over
From looking at the math, the Packers can only afford to lose 1 more conference game, and 2 more games overall to have a realistic shot at the playoffs. 3 losses shuts the door on any realistic possibility.
Here's the Packers remaining schedule:
Titans
at Eagles
at Bears
BYE
Rams
at Dolphins
Vikings
Lions
If the Packers play to capability, there's no reason to lose to the Titans, Bears, Rams, and Lions. The Packers are either better than those teams, or have a decided home field advantage. That gets you to 8 wins.
Obviously the toughest ones would be at Eagles, at Dolphins, and Vikings at home. The Packers get 10 days to get ready for Philly. At Dolphins is going to be a wildly tough challenge down in Miami. That'll be tough to win. And Vikings at home will be tough, but it's against Cousins in an afternoon time slot. I'll take my chances.
Games to look out for this week:
Bears at Falcons
(Even though I think both teams are cooked, wouldn't hurt for the bears to take the Falcons to 4-7)
Commanders at Texans
(Now would be the time for the Texans to do one single thing productive)
Eagles at Colts
(Hoping the honeymoon period for Jeff Saturday can last another game as he makes his home debut)
Rams at Saints
(not really though. They're both cooked)
Lions at Giants
(Go lions)
Cowboys at Vikings
(Need to pull for Minnesota. There's a slightly better shot of having a report of a snow ball fight breaking out in hell than the Packers competing to win the North. You never know if that head to head victory over the Cowboys could be a deciding factor)
49ers at Cardinals
(49ers scare me the most on teams competing for a spot. Need a cardinals win)