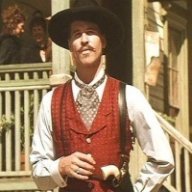 You retired too? .... Not me. I'm in my prime
Joined

Aug 2, 2005
Messages

4,855
Reaction score

8
Location
A columnists view of Favre and Green Bay...
http://seattlepi.nwsource.com/thiel/346322_thiel07.html?source=mypi
Favre in charge: There's just no beating St. Brett
By ART THIEL
P-I COLUMNIST
And now, they play against God.
A stretch, perhaps. But only if you haven't been to Green Bay.
Big-time pro athletes don't come more admired than Brett Favre.
Pro sports franchises don't come more endearing than the Green Bay Packers. Fercripesakes, the team is community-owned.
After a splendid 13-3 regular season, the Packers are recipients of the national hug as they commence Saturday their march to the desert and the inevitable fight for the soul of civilization against the remorseless New England Patriots in the Super Bowl.
Wondering what the striking TV/movie scriptwriters were doing with their free time? Now you know.
The Seahawks couldn't be more unwelcome if they were Mr. Potter plotting against George Bailey in "It's a Wonderful Life."
The hiss has started in TV network headquarters. By the time it sweeps across a fruited plain desperate for feel-good sports stories (not you, Roger Clemens), the Seahawks will think they are in a hurricane.
All the Seahawks did was win a playoff football game. Soon they will be seen as dastardlies who tie widows to railroad tracks.
The feel is similar to the Super Bowl two years ago, when they went up against the national darling Steelers and Jerome Did-You-Know-He's-From-Detroit? Bettis. Even last week, the Seahawks were eight-hanky underdogs to the Washington Redskins, who were on an overwrought crusade for a slain teammate.
But in terms of sloppy sentiment -- which is, as you know, much more important to a game's outcome than countering a zone blitz -- this may be the worst, because even cranky sportswriters can't work up literary snarkiness to flick at Favre and the Pack.
Please don't think the Seahawks will do it for any of us.
The team's two most important figures, coach Mike Holmgren and quarterback Matt Hasselbeck, came to Seattle from Green Bay and will go long with hosannahs about team and town.
Calling Lambeau Field "the greatest venue in all of sports," Hasselbeck, after the 35-14 win over Washington, needed only to add light background music and sepia-toned photos to complete his impromptu Ken Burns mini-documentary.
"I remember the first time I went back there, it was a huge deal to me," he said. "Green Bay, Wisconsin, is a special place to me. If it wasn't for that organization, I would have never gotten a chance. I would be wearing a suit to work every day. They helped me to fulfill my dream of playing in the NFL.
"The people there are the same way. From Brett to (coach) Mike McCarthy, who was there when I was there, to the people in the front office, to the people who work in the pro shops, everybody.
"It's just a special thing, when you get to play your friends."
Stop, Matt, just for a moment. I'm getting all verklempt.
There. I'm better now. Soft-focus lenses do that to me every time.
Holmgren was no less effusive. Cue the eye moisture.
"I'll probably have to say it a number of times this week -- Green Bay is a special place for people that like football," he said. " It is very unique. When my family was there, we had a wonderful time. We have fond memories.
"Now we have to go back and play them. We're very excited about the opportunity."
If the Oakland Raiders were alive today, they would retch.
Then there's Favre, who a couple of weeks ago was anointed Sports Illustrated's annual Sportsman of the Year. A terrific story that accompanied the honor made clear it was Favre's humanity that has endeared him as much as his football achievements.
Addiction to alcohol and painkillers threatened his health and marriage. After rehabbing his way to sobriety, his wife, Deanna, learned that she had breast cancer a week after her brother younger was killed in an accident.
The upside of Favre's life was powerful too, including his long friendship with a developmentally disabled man taught by his mother, his foundation's donation of $4 million to worthy causes, the rousing of nationwide help for his home-state victims of Katrina, as well as his life-changing influence on one-time miscreant Koren Robinson, the former Seahawks receiver.
Then there was the time he threw for 400 yards on "Monday Night Football" the day after his dad died. SI wrote: "Grown men around Green Bay still tear up when recalling that game."
Sheesh. And the Seahawks plan to slam this gent to the fabled frozen tundra in front of his hometown fans? Good luck with that.
"He means everything to these people," Packers receiver Donald Driver told SI. "He's not only our leader, he's the symbol of the franchise, of the whole town. There's a generation of fans in Green Bay who don't know this team ever existed without Brett."
This year, all Favre is doing is a Cal Ripken/Jack Nicklaus/Curt Schilling combo job by having nearly a career year at an age when he should be broadcasting.
Arrayed against this Alps of history, sentiment, courage and romance, all the Seahawks have to accomplish is something the franchise has done once in its history, and not in a quarter-century -- win a road game in the playoffs.
Daunting as is that prospect, the football fates will make sure things only get worse.
If the Seahawks win, there is no doubt the next opponent will feature Oprah at cornerback, Tom Hanks at wide receiver and Walter Cronkite as coach.