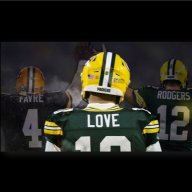 Joined

May 2, 2012
Messages

12,850
Reaction score

4,262
Before the slew of cuts come in here is the best and worst from Saturday's game vs Seahawks:

OFFENSE BEST

WR Jadakis Bonds: 79.6 - flashed, may have given himself a shot at PS consideration.
TE Austin Allen: 79.6 - Crazy thing is he may be part of the initial 53....only to be cut when we claim someone else's cut TE. PS is his future otherwise.
QB Alex McGough: 76.8 - He needed this and I'm comfortable with us keeping him around as our 3rd QB with a healthy Love and Clifford ahead of him.
QB Jordan Love: 76.1 - PS consistency...he does this in the regular season he is going to make a lot of people eat crow.
RT Zach Tom: 75.1 - Solid, not shocking. Not a single pressure in 36 snaps.

BEST DEFENSE

CB Tyrell Ford: 89.3 - Cool to see but thanks for your time sir...maybe see your way back on PS.
OLB Brenton Cox Jr.: 86.0 - We have to make him part of 53, or this young cat will 100% get claimed IMO.
OLB Lukas Van Ness: 83.8 - More things clicking for young hercules.
LB Eric Wilson: 83.2 - Making a bid to be one of the last to squeeze a spot.
OLB Keshawn Banks: 82.7 - He's making a bid for PS consideration.


WORST OFFENSE

OL Jean Delance: 33.7 - I'm kinda surprised he is still around truthfully...everything seems too big for him.
WR Jayden Reed: 49.8 - That one drop landed him here...harsh but what it is.
WR Dre Miller: 50.2 - Did nothing wrong but also didn't get open in his nine snaps. Won't be back in any capacity.
OL Royce Newman: 50.7 - Newman could be that end of the time type trade for low grade Day 3 like we've seen Gute work before...he needs a new scene, and if we don't trade him - he may be getting one anyways.
WR Duece Watts: 51.7 - Everyone knows I am a fan of thinking there is something there in Watts...perhaps makes PS but not looking good.

WORST DEFENSE

CB Elijah Hamilton: 42.1 - Nothing of note, space filler.
OLB Justin Hollins: 43.5 - That missed tackle hurt him. I still think he is on the 53.
CB Innis Gaines: 46.3 - Gaines excelled in many places this spring...but big plays haunt him again here. He is one of like a dozen guys that are VERY nervous today.
LB Tariq Carpenter: 49.4 - He is starting to show better at the new position....see above ending note on Gaines.
S Dallin Leavitt: 51.1 - Leavitt may have played his way off this team...well truthfully it may be more about they feel Anthony Johnson Jr can provide similar ST play while growing with a higher ceiling at Safety rather than Leavitt playing his way off.