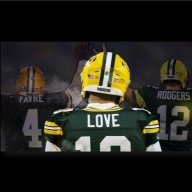 Joined

May 2, 2012
Messages

10,973
Reaction score

3,102
@Poppa San
don't be offended if I start this thread...I'm sure you were about to.
Here we are backs against the wall and to be honest no one expects us to win, and that concensus is a valid one.
I'm mixed on this...I want to see the big upset momentum swing this game could be, but I also even found it hard to type that as I just don't see it.
I know many want to see us go get a WR via trade....but truthfully and honestly how much spending should a 3-5 team truly do? Should they be sellers instead....probably not, especially if Rodgers internally has made it known he intends to be here next season. Which I have a feeling that conversation HAD to have happened no? Gute for sure isn't going to spend serious draft capital making a weapon move if he does WITHOUT knowing Rodgers is here because it very well could be a play pointless for this year but everything for next year???
This game and the next 6/7 days worry me incredibly....a lot of clarity in direction is going to occur in them...