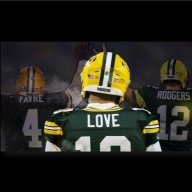 Joined

May 2, 2012
Messages

11,616
Reaction score

3,476
We control our own destiny home field advantage wise, BUT I thought we were just one win away...nope.
IF we end up only with matching records with New Orleans yes, but if Seattle wins out and we split...folks we could fall to the #3 seed still:
If Green Bay beats Tennessee but loses to Chicago, it would finish 12-4 and 9-3 in the NFC. New Orleans would be 12-4 and 10-2 and Seattle would be 12-4 and 9-3. In this case, the Saints would get the No. 1 based on the best conference record. Who would be No. 2? With no head-to-head matchup and a tie in NFC games, the next tiebreaker would be common games. Seattle would win that by going 4-0 vs. Minnesota, San Francisco and Philadelphia while Green Bay went 3-1.

As the No. 3 seed, the Packers' potential first-round matchup would be a rematch against Tampa Bay but at Lambeau Field.
Pulled that quote from https://www.si.com/nfl/packers/news/packers-path-1

So it would appear, this Tennessee game is irrelevant in any situation with SEA should Seattle end up with four losses as well...

Seattle has the Rams at home this next week, and then finish the year at the 49ers. Not the easiest road to 12-4, BUT not the hardest either.