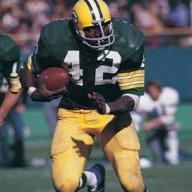 Joined

Jan 21, 2017
Messages

11,549
Reaction score

2,467
We are a little less than two months away from the beginning of roster construction for the 2018-19 season. March 12 begins the "legal tampering" period, while free agency starts in earnest on the 14th. With that in mind, I want to take an overview of the roster to determine needs and how those needs might best be addressed.
Quarterback:
A. Rodgers, 34, 20.6M cap hit
B. Hundley, 24, 760K
The starting role is taken care of. However, this position needs help behind Rodgers. His cap hit is around 20M for the next two seasons. It will certainly be much higher after that. For that reason, it seems more prudent to me to bring in a veteran backup on a two year deal. Backup QB's are expensive, so I wouldn't favor a veteran contract extending into 2020, when Rodgers' cap number increases. If value falls, they could also draft a QB to compete for Hundley's spot on the roster and, if a younger player shows out, keep three on the roster this season. But the bottom line is that the Packers must have a better plan B at the position. They can't afford to sacrifice another season because they don't have a good enough backup to get them through a Rodgers-less stretch.

FA Targets: Ryan Fitzpatrick, Derek Anderson, Matt Moore, Blaine Gabbert, Chase Daniel
Running Back:
T. Montgomery, 24, 880K
J. Williams, 22, 696K
A. Jones, 23, 605K
D. Mays, 23, 573K
A. Ripkowski, 25, 730K
J. Kerridge, 25, ERFA
After heavy draft investment, the RB position is exactly where you'd want it: deep and cheap. The FA class at RB is really good, but I wouldn't touch it. There's no reason to tie up cap space here with veteran contracts. Should a really great value fall in the draft, the Packers can certainly take advantage, but if they did nothing for camp other than bring in some UDFA's, I would not be concerned. I think Jones and Williams form a duo moving forward, with Montgomery a key backup for 2018. Mays probably doesn't make the roster unless he makes a big step forward. I personally think that Kerridge is a better player than Ripkowski and I hope he wins a camp battle.
FA Targets: N/A
Wide Receiver:
D. Adams, 25, 10.5M
J. Nelson, 32, 12.5M
R. Cobb, 27, 12.7M
G. Allison, 23, ERFA
T. Davis, 24, 686K
M. Clark, 22, ERFA
D. Yancey, 23, 480K
This is one of the more difficult positions to manage this offseason. Things are obviously very expensive at the top, however after 2018 a ton of that money goes away (as do a couple of Rodgers' main targets). For the sake of the future, the position needs help, however the money complicates things. Should they decide to bite the bullet and keep all three top WR's, the draft is really the only feasible route for adding to the group. If they let Cobb or Nelson go, it might be reasonable to try and find value in a deep WR free agent class. Personally, I would not count on anything after those top three. Let them all come into camp with rookies and see if they have progressed. What the WR corps needs more than anything else is speed. Dallas' Brice Butler is 6'3" 214 with 4.3 speed and likely to be undervalued.
FA Targets: Brice Butler, Marqise Lee, Albert Wilson
Tight End:
L. Kendricks, 29, 2.25M
This position obviously needs an overhaul. Kendricks is fine as a TE2, but there is currently no worthy starter and no depth. This is one spot where I would say they need to sign a FA, draft one, and bring in plenty of UDFA competition. I don't love the idea of investing what Jimmy Graham will cost given that the TE position is more complimentary in this offense than featured. Tyler Eifert is far too injury prone. Trey Burton is easily my favorite target at the position, but if they miss out on him then there are some lesser options. Signing a backup caliber TE would push the position up the draft priority list. That's not the end of the world, but I don't favor it as tight ends normally take longer than normal to develop and contribute at a high level.
FA Targets: Trey Burton, Austin Seferian-Jenkins, Richard Rodgers, Luke Willson, Virgil Green
Offensive Line:
D. Bakhtiari, 26, 11M
B. Bulaga, 28, 7.9M
J. Spriggs, 23, 1.3M
K. Murphy, 24, 660K
L. Taylor, 28, 4.2M
J. McCray, 25, ERFA
C. Linsley, 26, 4.6M
L. Patrick, 24, ERFA
K. Amichia, 23, 480K
The tackle position seems to be in decent shape. They certainly have too much cap space tied up to go and try and sign one on the open market. This is especially true given how valuable the position has become. Spriggs has been disappointing, but he's too talented and cheap at a premium position not to bring back to camp. Murphy showed well enough to make me feel ok about the depth. They could certainly draft a player here if value fell. Center is well accounted for with Linsley starting and Patrick backup him up. Guard is set on the left with Taylor, but less certain on the right. I personally think that McCray played well there and would be OK with him as the starter moving forward. If they were to sign a veteran guard, he would be a really high end backup. Should they let him compete for the job, I would like to see them draft a guard in the top 4 rounds. Xavier Su'a-Filo is a guy I find really interesting. He busted in Houston, but he's really gifted and I'd like to see what Campen could do with him.
FA Targets: Jack Mewhort, Justin Pugh, Xavier Su'a-Filo
Defensive Line:
M. Daniels, 28, 9.8M
K. Clark, 22, 2.5M
D. Lowry, 23, 725K
M. Adams, 22, 782K
The front line of this unit is in really good shape. Daniels is in his prime, Clark is looking like a great pick, and Lowry is a solid third starter. It's the depth that needs to be addressed. I was impressed enough with Dial that I would bring him back. They need more interior pass rush. Adams might be helpful in that regard, but I think they could draft him some competition as well.
FA Targets: Quinton Dial
Edge Defender:
N. Perry, 27, 10.75M
C. Matthews, 31, 11.4M
V. Biegel, 24, 728K
R. Gilbert, 24, ERFA
K. Fackrell, 26, 836K
C. Odom, 23, 555K
Edge is another position like wide receiver where there are real needs for the future, but a lot of money tied up for the time being. Perry and Matthews should be back, but they need to find a starter for the future who can also provide quality snaps in 2018. Biegel showed some promise down the stretch, but shouldn't be viewed as a solution. Fackrell, Gilbert, and Odom shouldn't be viewed as anything more than camp competition. This is the top draft priority in my opinion. Due to the money already tied up in Perry and CMIII, I'd only look for buy-low free agents.
FA Targets: Trent Murphy, Aaron Lynch
Linebacker:
B. Martinez, 24, 725K
J. Ryan, 25, 819K
J. Thomas, 26, RFA
Inside linebacker is quietly one of the biggest needs on the roster. Capers' defense tended to use so much dime that it didn't really matter that there was little depth and athleticism at the position. Pettine, however, has tended to feature inside linebackers in his defensive units. Martinez and Ryan essentially play the same role as the downhill MIKE with limited coverage range/skill. They need to find some more athleticism at the position. There are a couple of big names in the draft that are appealing (Smith, Edmunds). But they might also venture into the FA market.
FA Targets: Zach Brown, Christian Jones, Anthony Hitchens
Cornerback:
D. Randall, 25, 2.5M
K. King, 22, 1.6M
L. Pipkins, 24, 556K
J. Hawkins, 24, 630K
D. Brown, 26, ERFA
D. Goodson, 28, 708K
Q. Rollins, 25, 1.2M
Cornerback remains a position of big need for the Packers. Randall played well enough in the 2nd half to be penciled into a starting role this season, and one assumes that King will be the other starter, but they need a 3rd guy. Randall is a FA after this season, and he's the last type of player I'd ever give long term money to. So this is a spot where both a FA investment and a draft pick would not go amiss. Everyone after the top two will need to earn a spot in camp if they're going to make the roster. I think Pipkins is promising.
FA Targets: Kyle Fuller, Trumaine Johnson, Malcolm Butler, Prince Amukamara, Bashaud Breeland, E.J. Gaines, Patrick Robinson
Safety:
H. Clinton-Dix, 25, 5.6M
J. Jones, 23, 960K
K. Brice, 23, 630K
M. Evans, 24, 640K
J. Whitehead, 24, ERFA
This is a talented group that really underperformed under Capers. Clinton-Dix has shown high end ability, but regressed last season. Jones struggled under the weight of a really complex scheme and too many different assignments. Brice, Evans, and Whitehead are fine depth. I'm interested to see how these guys play under Pettine. Burnett is a good player, but I would not bring him back. With his age, mileage, and position, I don't want to invest future money in him. A veteran to stabilize the group would be fine, but it isn't a great class. More likely, they'll invest a draft pick here to hedge against HHCD not rebounding from a bad season.
FA Targets: Tre Boston
Special Teams:
M. Crosby, 33, 5.25M
J. Vogel, 24, 556K
Z. Triner, 27, 480K
The kicker and punter situations are essentially set. I suppose they could bring in a rookie kicker to compete with Crosby, as a rookie contract would save them a good bit of cap space compared to his deal. But I doubt they do that. Long snapper is what really needs to be locked down and addressed. Triner is currently the only one under contract. I would give him plenty of competition. If there's a good one in college, maybe even spend a draft pick on one late.
Conclusion:
A backup QB, a TE, and a CB seem like the most logical FA targets this offseason given the state of the roster and the salary cap. Beyond that, it seems they can just see what type of value the market provides.