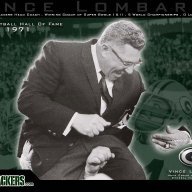 Joined

Jun 11, 2012
Messages

2,126
Reaction score

563
Looping back to where I was trying to start with...a switch to a 4-3 isn't a new architecture, it's changing the guest bedroom from Burgendy to Maroon.

Both schemes have a NT (Clark). Both schemes have 2 edge rushers (Gary and Smith.) Both have two off-the-ball linebackers responsible for run defense, hook zones, and the running backs in man--4-3 calls them WILL (weak outside) and MIKE (Middle) and the 3-4 calls them BUCK (Weak Inside) and MAC (strong inside). Only real difference is most 3-4s slide their 1-2 gaps further to the TE side.

Further, the most common 4-3 in the league today is the 4-3 under, which has been called a hybrid 3-4/4-3 OR "a 3-4 with 4-3 personnel." It was actually Fritz's base look as well. Per the above, go back to 1996. Have Sean Jones play in a 2-point stance. Boom, you're done, it's a 3-4 now. Ditto Seattle under Pete Carrol.

But even with all that, that's still not the biggest issue. The reality is that nickel matters more. And pretty much all teams deploy a 4-2 or 2-4 nickel, as it turns out a front 4 is a better pass defense.

You can play any coverage, cover-2, man-2, tampa-2, cover-3, quarters, cover-1, cover-0 from any front.
About 20 years ago on the open NFL boards I was asked by frustrated Bear fans why their defense struggled with Favre and the Packer offense. They could not get pressure on him enough but had to play more in the box to counter our running game and offensive line. When I saw Urlacher as a rookie my first thought was put this guy in a 3-4 and send him. He is just short of Ray Lewis. Instead they have him trying to plug every hole and go sideline to sideline. When Lovie got there he built a very vanilla cover 2 with a 4-3. They did not fool anyone but they made it work. When we drafted AJ Hawk from OSU I said he would be perfect in a 3-4. But he never became the disruptive force we hoped he would be even though he rarely missed a game. I still believe the foundation of the defense is controlling the line of scrimmage. That means stopping the run first then getting to the QB.