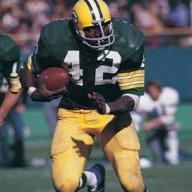 Joined

Jan 21, 2017
Messages

11,631
Reaction score

2,596
The Packers are 3-5 and 8 games into this disappointing season. Here are some thoughts/questions.

1. The offensive line is the biggest factor rendering this offense and passing game ineffective. It's stunning how poorly they've played. There are the obvious injury factors to consider. One also wonders if they miss Stenavich in the OL Coach role. Until they improve, the offense will not make serious strides.

2. The pass catching options are not the root cause of the passing woes, but they exacerbate it. Just as a good secondary can make a defensive front look good by covering longer and forcing a QB to hold the ball, so good receivers can make an offensive front look good by getting open quickly and allowing the QB to get rid of the ball.

3. Rodgers is showing some signs this year of both decline (albeit not major) and his old tendencies of cowboying the offensive gameplan.

4. The defense has been, by far, the biggest disappointment on the year. They play soft, stupid football. They clearly are not being coached well. There are zero excuses. The personnel ingredients are all there. This is made a more bitter pill by the fact that the other candidate for the job, Ejiro Evero, is coaching a lesser group into the #2 scoring defense in the league.

5. Despite everything, if the offensive line can improve over the back half, I still think it's in the realm of possibility that the Packers make a push towards double digit wins and get in the mix for a WC spot.