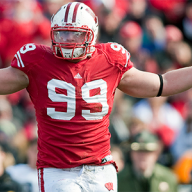 I take offense to that sir.
Joined

Nov 10, 2020
Messages

1,023
Reaction score

525
1) Sadly, after making a commitment to drafting offensive lineman over a number of drafts (which I believe is they key to football success), it turns out that, unfortunately, a number of poor picks were made. Additionally, sadly, Bakhtiari's and Jenkins' injuries have clearly left them as not the players they were, but the fact is, that no one can play forever. Still, watching that loss to the Giants in London was painful. The Packers O-Line coach, Butkis, made absolutely no adjustments against the Giant's twists. The Offensive line was utterly befuddled and collapsed.
I agree that the offensive line has had its issues this season. Bakh has actually played pretty well. Jenkins has taken a step back. I think he is coming back into is form, but it's too late for this year. Myers is a good center. Early on this unit stunk. I think they have made some strides though. I would put them as an average group overall with some upgrades at guard making it much better.
2) I fundamentally really like Matt Lafleur, but his defense of Defensive Coordinator Joe Barry is downright painful all the time. Quite frankly, it is hard to believe they could stoop lower than Dom Capers or Mike Pettine, but somehow they managed. An NFL team giving up roughly 400 yards rushing is utterly unprecedented. Either your coordinator is inept, or your players are hopeless, or both. But it can't be neither. LaFleur can insist we're all in this together. Well ok, but then we will all LOSE together. From what I can gather, Joe Barry believes he wins if he doesn't give up 60-yard TD passes. However, he is very content to give up 4, 15-yard passes, or let his run defense give up 5-10 yards at a clip and stay on the field for 10 minutes per drive. That works real well later in the game when the other team's offensive has such a time on the field advantage, by Q3, Q4, the defense can barely stand.
Totally agree. I didn't understand the hire in the first place.
4) Since his injury, Tonyan is clearly no longer the player he was. Dequara, though he never proved himself like Tonyan, sadly, also after his injury, is clearly not an NFL calibre player. Lewis is finished.
I said it at the beginning of the season that this was by far our weakest position group on this team. I like Lewis, but he's washed. Everyone brings up his blocking. That's all he can do. There's no playmaking ability out of any of these guys. Tonyan is barely serviceable.
5) Gary's injury was a very tough, and a sad loss. This guy was really developing into a star. Before he got hurt, his 2022 motor simply did not stop!
Dudes a stud.
6) Knew the moment I saw Christian Watson college highlights, this guy had big potential. Very happy how things are developing with him.
I know there's a lot of people ******* on this group and as far as 2022 goes, I would tend to agree they are below average. However, the potential for this group to be good. Watson and Doubs seem to be hits. Toure has shown a few flashes. An addition in terms of another playmaker would really round that group out.