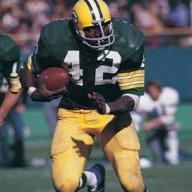 Joined

Jan 21, 2017
Messages

11,371
Reaction score

2,305
What receivers should be sick of is them playing like straight booty.

Maybe they shouldn't be so much worried about what Rodgers is saying about them and be a little more concerned with not playing like trash themselves.

Kurt Warner's breakdown of the Detroit game is an awful look for the WR room. Rodgers played a part, but when you look at it through the lense of Warner, it's very easy to see what Rodgers is so damn frustrated with.

I don't mind people banging on Rodgers. But to act like these WR's ain't playing like hot garbage and shouldn't be held accountable is a joke.
1) I don't think anyone is acting like the receivers are playing great.
2) Notice that when Rodgers makes a mistake, no one shakes their head, curses at him, stares at the heavens, or chews him out. It's only the other people who get chewed out by him. That dynamic can only last if the guy being a jerk is playing at a high level. He just isn't.
3) The biggest problem, bar none, in the Detroit game, was Rodgers-- NOT the WR's. He threw a ball directly at a DL's head that popped up and got picked, he dramatically underthrew Bakh in the endzone and got picked. He had Tonyan open down the seam and held the ball, threw late, and got picked. He overthrew open received down the field, he passed on open receivers and threw the ball away, he passed on open receivers and took sacks.
That one game was, beyond argument, 90/10 on Rodgers. Everyone has games like that. But you CANNOT be that bad and then treat everyone else on the team like dirt. It will not last.