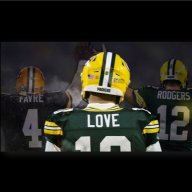 Joined

May 2, 2012
Messages

12,180
Reaction score

3,841
So my mind and discussion with a friend (fellow Packer fan) led us down the route of the wide receiver room here at Green Bay...and how it projects moving forward. It's easy to say Green Bay as an organization appears to be sitting at a stop sign with about 4 or 5 different roads to choose from to move forward on - many decisions need to be made and will be which govern which direction or route is taken at the intersection.

The fallout of how this Aaron Rodgers item is a large factor in this - but essentially this group has 2 directions we are going to head down IMO:

1 - A 2022 with Adams (extension), Lazard (RFA tendered), Rodgers + 1 guy signed from MVS, Funchess, EQSB, Taylor

2 - Adams is not extended and Gute/Co. essentially bring back everyone for cohesiveness for Rodgers or Love - MVS, Lazard, Rodgers, Funchess (if he does well) and another guy that makes the roster this year EQSB/Taylor/Unknown presently

Either way you slice it come 2022 if answers are not found internally, WR is going to without question be one of the biggest needs this team is facing...and very well could be facing it with a young QB to boot.


Now a couple spins or takes which we spitballed out over some bourbon (so take that into consideration) were:

Trading Adams - this is a last resort type scenario and NOT one anyone would desire. However, the situation where this becomes a reality is Rodgers and Packers never make up and 2021 we don't see a Rodgers at QB here in Green Bay (traded, retired...somehow gone). Adams, most likely quietly, informs Gute/MLF/Murphy he doesn't intend to finish his career or next contract in Green Bay with a new young QB going through growing pains. It is a professional approach and Green Bay fields calls out of respect to Davante in the 2021 season before the deadline - the return could be quite massive given he is arguably the best or one of the best in the game.

Trading Lazard - Lazard is a talented, consistent WR for a team when he is on the field. A secure solid #3 on nearly any roster with high upside is something teams might desire grabbing. Yes he is going to be a RFA so keeping him isn't going to be insanely expensive, but with so many cap issues and if we sign Davante to massive money - cash spent at the WR position would be better served on a guy like MVS who presently offers something no one else on the roster does or can. Lazard is simply easier to replace. I could see this being an option EVEN if Rodgers does come back and we don't start a reload fallout type situation...this one hinges IMO on them finding or seeing the potential for a guy like Malik Taylor or EQSB to finally step up and take on that role of Lazard providing that 50 Reception - 750 yds - 7TDs type production that Lazard projects (needs to see a complete season health wise) to when seeing the field.