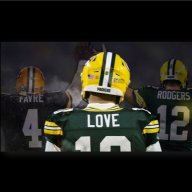 Joined

May 2, 2012
Messages

12,848
Reaction score

4,261
Honestly this is growing enough to warrant a thread for folks to post updates to.

Back in March, Green Bay placed a second round tender on Lazard in order to not expose him to the open market and risk losing him for nothing. This tender is worth just shy of $4M if signed.

No team has placed an offer to Lazard making a possible second in return should GB not choose to beat/match....has left us waiting for Lazard to sign or GB to possibly sign him to a longer deal than the one year tender.

Lazard technically under the current CBA has only until June 15th to sign the tender OR the Packers legally could choose to reduce Lazard's base salary to the minimum $935,000 and convert the remaining $3.05 million into a signing bonus. If they wanted they could add four void years according to many and choose to prorate that amount, opening up between $2M and $3M in cap space.

Many speculate Lazard of course wants paid given the WR market value most places his value at about $7/8M a year - or double what this tender is worth and would cause him to take on risk of injury and be left with nothing in an offseason facing UFA. The timing of this all also makes it interesting for Lazard - in one hand he can argue look GB you have no one when Cobb retires most likely after this year with any measurable experience in general or with AR except me...do you really want me to hit UFA next season or count on a collection of proven nothings in Watson, Doubs, Toure, Winfree, Taylor, Rodgers and Davis to provide things for you?

On the flip side GB can argue right back he hasn't produced to a level they would be smart at throwing #1 money at for sure but arguably #2 money as well....both sides have to be willing to wiggle to make this logically work for both - adding insurance of additional years to Lazard, but also not robbing him of his ability to maybe get one big contract in his career - while also not tying GB to a bad contract for a guy that is clearly a WR3 type but beyond that isn't known, and not too mention is HIGH on a couple young guys and could see Watkins light it up with Rodgers and want to stay here as long as AR is....

Mandatory minicamp started today 6/7/2022 and he wasn't there....

8 more days till GB could play hardball and take money from him....I don't envision it coming to that...but it is legal and possible.