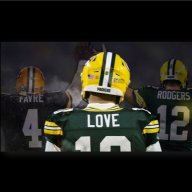 Joined

May 2, 2012
Messages

12,850
Reaction score

4,262
A lot can be said on whether it was smart to enter the season with no wide receiver with a full season of experience, but I'll admit that the cutting of proverbial teeth has been impressive to watch and this group of pass catchers.
Through the ten games we have this is where our WR room is at (only put top 5):
You must be logged in to see this image or video!
Now this is not a deep analytical dive, more a overall production review. Yes Wicks is one of the best not just on the team but in the league at beating man coverage and separation creation...yes Reed is producing yards and tuddies at a faster rate than Watson did as a rookie...yes Doubs is pacing to catch 12 TDs by the season end (two shy of the insane James Jones year a lot of GB fans memorialize).
Yellow items represent the leader in that category.
Wicks
- folks ask why so many are saying he may just have the highest ceiling and likelihood of being a true WR1 in the future....well even beyond the analytics of his route running, separation...look at his INSANE ability to convert first downs. 80% of his catches have went for a first down....He has 76 less snaps than Watson but has massively out produced him...and he and Reed are the two highest catch percentage guys right now right around 62.5%. Also folks this man refuses to go down, his vision and line selection is amazing and his juice is vastly more charged than folks realize.
Watson
- clearly having a down year. I chalk this year up as a sophomore slump (I HOPE) because his traits are nasty good...but we may just have a bigger, faster MVS 2.0 at this point worst case (which I'm not saying isn't bad necessarily) but that is not what you want from a guy that many argue was a first round talent stolen in second round. His health and his play both are making his future out of all skill players tougher to predict. Good thing is he's easily not going anywhere and 2024 I sense is going to be the year it all crystalizes...for the good or the bad.
Doubs
- I told my buddy he is James Jones 2.0 at his best and Allen Lazard 2.0 at his worst...can be a #1 when needed but I think may be best served to be in a shared room type approach or with one other alpha dog WR1. Dude has a nack for tuddy catches more than anyone on our roster for sure. I want Doubs in GB for years to come IMO.
Reed
- He is better than rookie Cobb was - yup I said it. It is crazy how the similarities exist between them and what they do good, but Reed is vastly more fluid and natural IMO in his movements and his vision is like that of a RB it seems. If Reed isn't careful, by 2024 he will find himself the constant target/touch leader in the WR/TE rooms. This kid is special and right now you see his future more clearer than Watson.
Put Musgrave in there just for sake of he is a big part of the receiving game for us...that kid is doing very well for a rookie TE in making things happen.
There is a lot to be excited about as the young weapons, while lumps have existed, are growing and showcasing this group could be NASTY into the future.
Last edited: