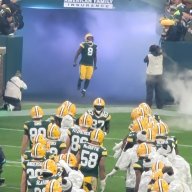 Opinions are like A-holes, we all have one.
Joined

Oct 30, 2012
Messages

29,838
Reaction score

6,367
Location
Why settle for 2.0 when you can go out and sign the original.
I know you were joking, but possibly one of the worst things that the Packers could do is to bring Hundley or Kizer back. But yes, the Packers could have 3 new QB's on the roster in the next month, 2 if Rodgers sticks around. The level of talent of those new QB's will depend on the Rodgers situation. Camp arms or possible Temp 2021 starter?
I am actually a bit surprised that no UDFA QB's have been signed. Which also has my mind wondering if there might be a deal in the works and said deal might include a QB that could be just a cast off throw in temp starter or a full fledged starter, that just needs a change of scenery. I think its a bad look (on Love) if they try to get a potential future QB in the deal.