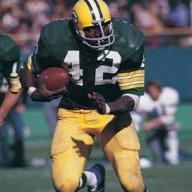 Joined

Jan 21, 2017
Messages

10,676
Reaction score

1,646
Updated...
Quarterback:
Nothing has changed in regards to the starter, but obviously the Packers have made a splash at this position. Love upgrades the depth, certainly, and will be a fun player to track moving forward.
Aaron Rodgers
Jordan Love
Tim Boyle
Jalen Morton
Running Back:
With both of the main pieces of the backfield entering a contract year, the Packers made a big (literally) addition to the position. Presumably, we will see a lot of Jones and Dillon in 2020, and he will provide them leverage and a backup plan in dealing with Jones regarding an extension.
Aaron Jones
A.J. Dillon
Jamaal Williams
Tyler Ervin
Dexter Williams
Patrick Taylor
Damarea Crockett
Elijah Wellman (FB)
Jordan Jones (FB)
Tight End:
With Lewis back and Deguara drafted, there's lot of variety here. Lewis is the traditional Y, Sternberger will move into the F role, and Deguara is the H. It will be interesting to see how Tonyan has progressed and how he fits into the picture. He's the only true backup at the position, as the other three players are really "first string" in their respective roles.
Jace Sternberger
Marcedes Lewis
Josiah Deguara
Robert Tonyan
Evan Baylis
James Looney
Wide Receiver:
Devin Funchess is really the only significant addition since last I wrote the roster up. He's a nice value considering what he
could
be, however it's very possible that he and Lazard are competing for the same snaps. This is still a position that could see an addition, and I predict that it will at some point (perhaps once there's a little more clarity on whether gameplay will happen in 2020).
Davante Adams
Allen Lazard
Devin Funchess
Marquez Valdes-Scantling
Equanimeous St. Brown
Jake Kumerow
Reggie Begelton
Darrius Shepherd
Malik Taylor
Darrell Stewart
Tackle:
The Packers have swapped Bryan Bulaga for Rick Wagner. That's a downgrade, though obviously one that comes with some considerable savings. Technically they added a tackle in Jon Runyan Jr., but he is looked at almost exclusively as an interior player in the NFL. Wagner starting for a year at RT should be OK, but they could look to improve the depth here. Yosh Nijman is one to watch in camp, as he came in last year as a really toolsy player in need of a lot of attention from the OL coach.
David Bakhtiari
Rick Wagner
Alex Light
Yosh Nijman
John Leglue
Cody Conway
Travis Bruffy
Guard:
Not much has changed here, and big change was not really needed. 6th rounders Runyan and Stepaniak will improve the competition and the depth, and I would keep an eye on Runyan as a future starter. Otherwise, guard is stable. Lane Taylor remains on the roster, but I would look for him to be released or traded before the season starts.
Elgton Jenkins
Billy Turner
Lane Taylor
Jon Runyan Jr.
Cole Madison
Simon Stepaniak
Zack Johnson
Center:
Having kept Linsley, extended Patrick, and drafted Hanson, the pivot is stable and fairly deep in Green Bay. Deep enough, in fact, that I would not be surprised to see Linsley released over the summer in the same way that Mike Daniels was a year ago. I don't think they would do it without reason, as Linsley isn't injured the way Daniels was. However, if they need some space to make another move possible, don't be surprised.
Corey Linsley
Lucas Patrick
Jake Hanson
Interior Defensive Line:
This position didn't get the love that many thought that it would. I initially thought it would be an area to address, but over the off-season I changed my mind. In a two iDL defense, it doesn't make sense to make a large investment when you have Clark in one spot and Z. Smith eating up a bunch of the pass rush snaps at 3T. But recently they've added Treyvon Hester, who some people seem to actually really like as a 3T role player. I think Keke is the guy to watch here this season. He was miscast as a big edge for Texas AM, but as an interior player he's a super high end athlete with a lot of potential remaining. Would still not be surprised to see an addition or two here. They could use a situational, early down player, and just generally, 7 guys isn't a lot for going through an entire camp.
Kenny Clark
Dean Lowry
Tyler Lancaster
Kingsley Keke
Treyvon Hester
Montravius Adams
Willington Previlon
Edge:
The Packers really didn't need to do much here given the investments of the previous off-season. So it's just been an exercise in adding depth. Garvin is a talented addition who could outplay his draft position is he takes to coaching. Galeai, similarly, has traits to replace Fackrell's role in the defense if he develops.
Za'Darius Smith
Preston Smith
Rashan Gary
Jonathan Garvin
Tipa Galeai
Tim Williams
Randy Ramsey
Greg Roberts
Delontae Scott
Linebacker:
Kirksey has been the big addition here. The Packers spend most of their time in dime, with only one true LB on the field. If Kirksey can stay healthy, they upgraded from Martinez. If he can't, the depth is somewhat questionable, with little experience to be found. The book isn't closed on Oren Burks, but it's getting close. Hear tell Kamal Martin was a much more impressive prospect in '18 than in his most recent, injury shortened campaign. Perhaps they found a bargain in the 5th round.
Christian Kirksey
Oren Burks
Kamal Martin
Ty Summers
Curtis Bolton
Cornerback:
The starters are fine, but this position as a whole is in something of a precarious position. Tramon Williams is still a FA, and nothing has been done to replace him. Options remain, but they won't last forever. I would hope/expect a move to be made over the summer to shore up the slot before all the likely candidates are gone. Stanford Samuels was added via FA. If his story from the combine is true and he's a lot faster than he tested, then he could turn out to be something.
Jaire Alexander
Kevin King
Chandon Sullivan
Josh Jackson
Ka'Dar Hollman
Stanford Samuels
Kabian Ento
Deshaun Amos
Marc-Atoine Dequoy
Will Sunderland
Safety:
The Packers are in pretty decent shape here, with a good starting tandem and some experience down the depth chart. We may see players from this position filling in as linebackers in dime quite often.
Darnell Savage
Adrian Amos
Will Redmond
Raven Greene
Vernon Scott
Henry Black
Frankie Griffin
Biggest Needs Remaining:
WR: They could really afford to diversify the skill set of the WR corps with an acquisition here. My favorite candidate: Kenny Stills, Houston-- Stills shouldn't be cost prohibitive to acquire in terms of the trade and his salary, is still a very reliable deep threat, and showed some ability in the short game last year for the Texans too.
OT: Unless a Max Light or Yosh Nijman really impresses in camp, the Packers will need to find a better backup play at the position. My favorite candidate: Jared Veldheer, Green Bay-- It seems that Veldheer wants to continue playing, he already knows the offense, and he remains unsigned.
LB: They could end up adding both a base ILB a la Goodson last season, as well as competition for Burks and Greene at dime backer. My favorite candidate: Clayton Geathers, Indianapolis-- a safety for Indy, Geathers is a strong run defender who I think could fit in a dime linebacker role.
CB: The inexperience after Alexander and King is startling. They currently lack a good answer for playing the slot. My favorite candidate: Darqueze Dennard, Cincinnati-- a tough slot for the Bengals, Dennard was snapped up relatively early in FA by the Jaguars, but the deal fell through for financial reasons.
Last edited: