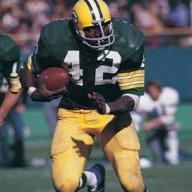 Joined

Jan 21, 2017
Messages

10,677
Reaction score

1,646
With the season officially over for Green Bay, it's a good time to look at the roster position by position.
Quarterback:
A. Rodgers
T. Boyle
M. Wilkins (PS)
Aaron Rodgers' season totals were below his career standards, however there are some mitigating circumstances to consider. Number one is supporting talent (aside from Adams, who was hurt for a chunk of the season, and Jones, his pass catching options were well below average this year). Number two is the reality of a new offense. It's possible that Rodgers has just declined, but it's also possible that with improved supporting talent and a year of experience in the offense he could take off.
To-Do List:
Given that the Packers have Rodgers under contract for four more season, and are financially bound to him for three, it makes no sense to think about finding a new starter at this point. A day three pick to compete with Boyle is the most they might do here.
Running Back:
A. Jones
J. Williams
T. Ervin
D. Williams
D. Crockett (PS)
Aaron Jones was a stud this year. He is easily a top 10 NFL running back. He's a great lead back for the offense. Jamaal Williams is a solid backup who can fill in adequately in every facet. Ervin showed enough in his limited opportunities to be brought back to camp as a gadget/return type of player. Williams has enough talent that he may surprise in a second year TC.
To-Do List:
Jones should be approached about an extension soon-- he's young and hasn't had a big work load. A late round pick to add competition would make sense.
Fullback:
D. Vitale
M. Johnson (PS)
E. Wellman (FUT)
This offense likes to use the fullback, as seen in Vitale's 170 snaps on the season. He further justifies his role with 228 snaps on special teams.
To-Do List:
This is another spot where the Packers are set, but competition in the late rounds would be fine.
Tight End:
J. Graham
M. Lewis
R. Tonyan
J. Sternberger
E. Baylis (PS)
J. Looney (PS)
Jimmy Graham was a non-fit in this offense from the beginning. He gave it a good effort as a blocker, but it won't ever be his game. His abilities as a pass catcher have declined dramatically. Lewis did an admirable job as a blocker, but at 36 he should be replaced with someone who can make more of an impact in the passing game. Both Tonyan and Sternberger are developmental guys with upside in the passing game. Random note-- James Looney, former iDL, is now listed at tight end wearing #49.
To-Do List:
There are really two tight end positions-- the in line "Y" spot and the flex "F" spot. It seems to me that the Packers are already working on two "F" type players in Sternberger and Tonyan, and have no good options at "Y." Ideally, they could fill that role with a strong veteran presence. Graham needs to be released if he doesn't retire.
Wide Receiver:
D. Adams
A. Lazard
J. Kumerow
G. Allison
M. Valdes-Scantling
E. St. Brown (IR)
R. Grant
D. Shepherd (PS)
R. Begelton (FUT)
M. Taylor (PS)
With so much promise heading into the 2019 season, this position was a real mess. Adams was great as usual, but hurt for a chunk of the year. MVS and Allison regressed majorly after St. Brown got hurt. Lazard was a nice surprise, but that's really the only positive to take away. The offense seriously suffered from a lack of play-makers. It was rare that pass catchers were making plays down the field or with the ball in their hands.
To-Do List:
An overhaul is necessary here. Adams is clearly safe, and Lazard should be too. Otherwise, both veteran and rookie help should be pursued. MVS and STB should definitely get another shot in camp, but a roster spot is no lock.
Offensive Tackle:
D. Bakhtiari
B. Bulaga
J. Veldheer
A. Light
J. Leglue
Y. Nijman (IR)
J. Spriggs (IR)
C. Conway (PS)
The Packers boasted one of the best OT tandems in the league again this season. Jared Veldheer was a competent backup, but is also an aging UFA. Alex Light appeared serviceable at times, but also got passed up pretty quickly by Veldheer.
To-Do List:
The Packers should resign Bulaga, as he's still at the top of his game and finding a good replacement would be extremely difficult. But it would also make a lot of sense to spend a relatively high pick on OT depth for the future.
Offensive Guard:
E. Jenkins
B. Turner
L. Taylor (IR)
C. Madison (IR)
The Packers nailed their 2nd round pick in Elgton Jenkins, who could well be one of the league's best in the near future. Billy Turner is solid. He isn't going to a Pro Bowl any time soon, but if he's your fifth best starter, you're doing well.
To-Do List:
The starters are set. Taylor needs to be let go for the cap savings. How aggressively they add help to the position depends largely on how they feel internally about Madison and Patrick, who also plays guard. If they like those guys and intend to keep Linsley, they are pretty set.
Center:
Corey Linsley is not an elite center, but neither is he a liability. He's above average and has been reliable. Patrick was strong in relief (for a reserve) and has been extended.
To-Do List:
Linsley could be a cap casualty, but if he is kept then the Packers don't need to do anything at center. If released, they will need to draft another option by the middle rounds to pair with Patrick.
Interior Defensive Line:
K. Clark
D. Lowry
T. Lancaster
K. Keke
M. Adams
When healthy, Kenny Clark was a dominating force this season. Lowry is not a major impact player, but he serves a role as a run defender (unless we're playing the 49ers, apparently). Lancaster is roster-worthy, but was forced to play too much due to a lack of depth. Keke is a developmental guy who could still pay off, but should not be counted on, while Adams has proven to be a big disappointment.
To-Do List:
This front definitely needs one more player to push Lancaster & Co. one spot down the roster. Someone with length and interior pass rush ability would be very helpful against a team like SF. Clark needs to be extended, pronto.
Edge:
Z. Smith
P. Smith
K. Fackrell
R. Gary
G. Roberts (PUP)
R. Ramsey (PS)
T. Williams (PS)
Gutekunst completely nailed two FA signings in the Smiths, and Pettine helped turn 4-8 sack players into 12+ sack artists who completely rejuvenated Green Bay's defense. Kyler Fackrell thrived in a depth role as he offers versatility that the others do not. Gary flashed, but proved to be every bit the developmental guy that he was projected to be.
To-Do List:
Because he offers a different skill set, keeping Fackrell would be a nice luxury. That said, it is almost certainly impossible. Gary will be counted on to step up in 2020. A later pick could be used on more depth, but there is already some interesting TC competition on the roster.
Linebacker:
B. Martinez
B. Goodson
O. Burks
T. Summers
C. Bolton (IR)
Undoubtedly, linebacker was the weakness of the Packers defense this year. Martinez was better down the stretch than he was early (undoubtedly linked to Clark's health), but he's a limited player who depends almost completely on others to allow him to make players. Goodson is fine as a run down specialist. Burks has not found his way yet, and at this point should not be counted on. Summers was a ST stalwart who never played a down on defense.
To-Do List:
The Packers need to let Martinez walk. Keeping Goodson as a role player would make some sense, but it isn't critical. A big investment here will be necessary, ideally through free agency.
Cornerback:
J. Alexander
K. King
T. Williams
C. Sullivan
K. Hollman
J. Jackson
K. Ento (PS)
D. Amos (FUT)
Alexander is a stud. Gutekunst really nailed that pick. You could do a lot worse than King in this league, but he is pretty inconsistent. He arrives at "average" by way of being either really good, or pretty bad. Williams played a nice slot corner this season, but his age really showed in the NFCCG. Chandon Sullivan was a pleasant surprise. Hollman almost never played, while Jackson saw the field more but proved to be a big liability.
To-Do List:
Alexander, King, and Sullivan should factor into the 2020 plans, but more reliable depth is absolutely necessary. Green Bay should take a swing on a sleeper in free agency, and need to keep drafting the position.
Safety:
A. Amos
D. Savage
W. Redmond
R. Greene
I. Campbell
Amos proved to be exactly the reliable player he was advertised to be, while Savage came on strong after a bumpy start to his rookie year. That means the "starting" duo is stable for the foreseeable future. Redmond is the only depth at a true safety position, and he was a pretty big liability when on the field. Greene showed well early, and Campbell was also a useful player, but we are talking more about a linebacker role when discussing these players.
To-Do List:
Greene and Campbell can both help out at the linebacker position (much needed), but the Packers very much need to find more help behind the starters at a true safety position.
Biggest Needs to Address:
Pass catching talent (WR & TE)
Linebacker
Interior Defensive Line
Cornerback
Offensive Tackle Depth