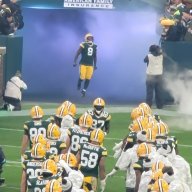 Opinions are like A-holes, we all have one.
Joined

Oct 30, 2012
Messages

30,996
Reaction score

7,146
Location
I think it's worth any risk keeping him this year. He's still pencilled as our starting LT and that's worth a lot. I also feel like he could outplay the games he did in 2022 and his value would skyrocket if he plays anywhere close to a full season (14-17 games etc). If that happens he's under contract and worth near a Day 1 selection straight up with any team. Above 60% chance we get that Jets Day 1 either way. We could be looking at 3 Day 1's if we traded him later this season or before next.

The only cost I could see to getting a Day 1 is a Trading Bak + kicking a future mid rounder back to that trade partner, such as Bak + a 4th etc.
I'd rather keep him and get a 4th or 5th comp than trade him for a 3rd imo
Personally, I don't see his value to the Packers in 2023. Much like I wouldn't want to see the Packers trade for a top WR right now. Maybe Bahk helps to win a game or 2, but that won't make a big difference.
Now as far as when to purge him. I see your argument that he could play all 17 games, at a high level, and his stock goes up. However, I see the odds of both of those things happening as less than 50%. Not to mention that his 2024 salary of $21,593,481 would only be taken on by another team, if it did happen. Thus, I think when you look what he brings the Packers this season, the risk of what his worth is in 2024 and the fact that his combined 2 year salary is only $22,793,481....a SB contender might pony up a decent draft pick now, for his services.