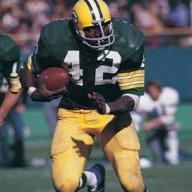 Joined

Jan 21, 2017
Messages

11,626
Reaction score

2,584
"Don't pay running backs" is the conventional wisdom of the moment in the NFL. And with good reason. The majority of big money extensions paid to the position have been disastrous lately.

The Rams recently incurred a ton of dead money in order to move on from Todd Gurley. The Falcons are giving up 6M in cap space this year for Devonta Freeman not to play for them. Lev Bell's deal looked awful in year one. The Cardinals regretted paying David Johnson until they found someone stupid enough to take on his contract.

So with Aaron Jones entering the last year of his deal, the Packers are confronted with a choice-- pay a RB a lucrative second contract, or let him walk?

Here is the case for keeping him.

Usage: Aaron Jones is entering year four in the league with 534 touches to his name, or 178/season. Another season comparable to 2019 will mean he will have 819 touches to his name by the time he lands that second contract, or 205/season.

This is not a lot of wear and tear. For comparison, Todd Gurley accrued 914 touches by the end of year 3, or 305/season and 1,229 touches by the end of year 4 (307/season). Even Devonta Freeman, who didn't play much as a rookie, was at 714 touches by the end of year 3-- 180 more than Jones.

At Jones' current rate (based on 2019 workload, not the average of his first three year-- 280 touches/season), Jones wouldn't top Gurley's year four number (1,229 touches) until the second year of his extension.

So point #1 for keeping him is that he just hasn't had the heavy workload so far that would make him "damaged goods" on a second deal.

Skill-set: As a runner, Jones' style is virtually a perfect fit for what this offense wants to accomplish. However, runners who fit a primarily zone rushing attack aren't that rare. The real argument that emerges to me in regards to skill-set is his receiving ability.

Jones demonstrated on a number of occasions that he is a pretty rare talent as a receiving back. Most RB's in the NFL can catch short passes in the flats, via screens, or as an outlet in the short middle. Jones ran routes down the field and made catches that traveled 30+ yards in the air.

For an offense that wants to run and pass effectively out of formations and play action that looks identical, this is an extremely useful skill set, and one that isn't easily replaceable.

Market: The running back market is depressed and will continue to be depressed. Teams are going to shy away from paying backs as they see what's going on with current extensions. This should push the price tag down in terms of annual cost and length of commitment.

Austin Ekeler just got paid 4/24.5 with 13.75 Gtd at signing. That's 6.125/season. The team can cut him after two seasons with a small dead cap hit (3M) and after three seasons with half of that (1.5M).

Some might think that Ekeler isn't a good comparison, but consider their production last year:

Jones: 285 touches for 1558 total yards, 5.5 yds/touch
Ekeler: 224 touches for 1550 total yards, 6.9 yds/touch

So let us assume that maybe Jones slots in just above Ekeler because he's more a focal piece of the ground game. That would potentially look like this:

4/28 with 16 Gtd at signing, 7M/season. With a similar structure in which it's easy to get out of the contract after year 2, I think that would be a great move for the Packers.

The high water mark of the deal, cap wise, would be 3.5% of the total cap (with the number getting smaller as the cap ceiling gets bigger). It would lock Green Bay in to his age 26 and 27 seasons, and essentially give them a team option for his age 28 and 29 seasons.

If Jones would accept that deal or something like it, I think GB should jump on it.