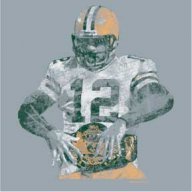 Joined

Sep 16, 2016
Messages

6,428
Reaction score

2,049
This is something that I just cannot wrap my head around.

Aaron Jones is obviously a very dynamic player. Both in the run game and the pass game.

So why is he not being utilized more in the offense?

Coming into this game, Aaron Jones had 61 carries for 309 yards, averaging 6.4 yards per carry. Even after 9/19 today, he's still averaging 5.8 yards per carry.

In the passing game, he only has 23 total targets.

All together, he averages 11.7 carries per game and 3.8 targets. That's a tick above 15 touches per game.

I'm sorry....but this is just flatly unacceptable. I think it's safe to say that Aaron Jones is the most dynamic player offensive skill player on the Packers. So why on Earth is he not getting more touches? For the life of me, I just cannot make this make any kind of sense.

Add to this, I seen a stat the other day where the Packers are 20-0 when Jones receives 15 or more carries. I know there's factors involved in this such as when the run game is really working, obviously that typically translates to a lot of wins. But still. It is what it is.

FEED this guy the ball more in the running and passing game. Why is this so difficult?