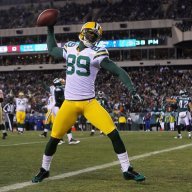 Joined

Sep 30, 2013
Messages

4,162
Reaction score

314
Maybe I have a skewed memory, but for years it seems like I hear this statement muttered way too often about an opposing offensive player "This guy is having a career game today."
My thing cut off on me before I could finish typing there. But yeah was going to say this is yet another game where our DC went passive. He's done that several times now, and even if the 49ers weren't ever going to win with our big lead, he's formed a very bad habit with our guys.
Now, as to Richie James having his big game, well .... this may be the anti fantasy football part of me coming out, but I don't really care much about individual players putting up good stats when they lose. I mean if MVS or Malik Taylor went off for like 250 yards receiving but we lost, I doubt we'd be too focused on that.
But, I agree if we don't get in the habit of finishing off these lesser teams, we could be in trouble if we get a lead against a team like Seattle having that approach.