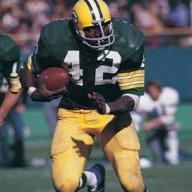 Joined

Jan 21, 2017
Messages

11,549
Reaction score

2,467
Read the thread before voting.

Ok, I am curious to see where Packer fans are at on this controversy if we strip away all of the rumors and unknowns.

So consider the following choices:

1) Rodgers signs an extension with the Packers that financially locks him in through the 2023 season. Jordan Love is traded for pick ~40 in the 2022 draft. No one is fired or reprimanded in the front office; there is merely agreement to give him a heads up regarding moves that will directly affect him on the field.

2) Rodgers is traded for a huge haul (multiple 1st round picks, additional day two picks, players) out of the NFC. A veteran QB is signed. The Jordan Love era begins, and the Packers have massive amounts of resources in 2022 and 2023 to build around him.

So ignoring all the rumors and the perceived diva behavior, forced firings, etc.-- essentially taking emotion out of it-- which of these two scenarios would you opt for if you could hypothetically pick and make it so.
Last edited: