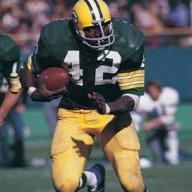 Joined

Jan 21, 2017
Messages

11,626
Reaction score

2,584
About 8 weeks ago, I created a thread in which I detailed what it might look like to tear down the existing Green Bay roster and start over with Jordan Love. For the record, that's still what I think the Packers should do. However, given the better play of late and the glimmer of playoff hopes here on 12/20, I think the team is probably going to be more inclined towards running it back one more season.

So, if they chose that route, what could they do to try and improve the team around Rodgers? Here are my thoughts:

1. Coaching: The experiment in hiring Joe Barry to recreate the Joe Staley defense in Green Bay has utterly flopped. The Packers' defense is way less than the sum of its parts. It has become clear that Barry is a mercenary in the scheme he was meant to install, not a native. Thus, the Packers defense is bland, predictable, and soft. The bad news is that we've all had to suffer through it. The good news is that, even if they lose some cap casualties, there is real margin to improve here. It will start with a new DC and whoever he wants to bring with him. Here are guys I would consider:

-Todd Bowles, HC, Buccaneers*
-Jim Leonhard, DC/DBs/IHC, Wisconsin
-Ejiro Evero, DC, Broncos*
-Dennis Allen, HC, Saints*
-Brian Flores, SDA/LB, Steelers

*Assuming they become available

2. Cap Savings: The Packers' effective cap space in 2023 is -6M. They have 7M in space for this current year. I'm unclear as to whether the -6M could be cancelled by rolling over the current space, or if that -6M figure already includes any roll over. In any case, they need to create room and-- if they plan to make a run in 2023-- they need to do it without gutting the roster.

-Restructure Candidates: Two of the most obvious would be Rodgers and Bakhtiari; however, given their age and other factors, they may be a last resort. There aren't other obvious answers as the Packers are already mortgaged pretty tightly. What they may do is just a series of smallish restructures across the board with a number of their more expensive veterans, including Clark, Jones, Alexander, Smith, Campbell, and perhaps Douglas if the plan is to retain him. The most obvious move to me would be a big extension of Gary that got his 2023 number lower (currently 10.8M).

-Cut Candidates: The options here are slim because 1) most of the expensive guys on the roster carry a lot of dead money if they're released, and 2) you don't want to cut key guys if you're hoping to compete in 2023. There are really only three guys that they could save some money by releasing: Bakhtiari (6M), Jones (10.5M), Smith (3.3M), and Douglas (3.2M). I am not sure that any of those options save you enough space to warrant the move.

3. Player Retention: The Packers won't be able to keep all of their own guys because of salary cap straits. However, they must find a way to keep Elgton Jenkins in the building if they're serious about a run in 2023. If Yosh Nijman could be retained as well, so much the better. If they decided to effort any of the lesser names, I'd try to keep Keisean Nixon and Rudy Ford. I would guess that everyone else needs to walk (includes Amos, Cobb, Lowry, Crosby, Lazard, Tonyan, Reed, Lewis, etc.). One last possibility is that they try to retain Allen Lazard. If they run things back, they will need to get the pass catching options as strong as possible. The WR market will be weak, so they may decide that keeping Lazard is their best option.

4. Trades: If the Packers aren't going to move on to Jordan Love in 2023, he will want a trade and they should grant him one. Use him to acquire a cost-controlled return at a position of need, or a pick that could be used to attain such an asset. If it's me, I also try to see if I could generate any trade interest in Bakhtiari, but that would obviously create problems with #12. On the other side of the trade coin, the Packers may try to find a team willing to sell off a talented pass catcher, given that the FA market figures on being very weak. Teams that may be willing to sell include: Rams, Cardinals, Broncos, Colts, Bucs. Of those teams, the feasible options:

-M. Pittman, WR, IND
-D. Hopkins, WR, ARI*
-J. Jeudy, WR, DEN
-T. Higbee, TE, LAR

**Would require massive amounts of financial ingenuity

I would love to send Love to the Colts for Michael Pittman. I think that would be a phenomenal move if they're going all in. Pittman-Watson-Doubs would be an excellent trio of receivers to build around.

5. Free Agency: The defense is going to need to improve via coaching improvements and rookies. If any FA acquisitions are financially possible, they will need to be spent on offensive skill positions-- particularly pass catcher. I don't think that they should be picky between WR and TE-- however they can improve the options the most effectively. Options I like:

-J. Meyers, WR, NE
-D. Schultz, TE, DAL
-F. Moreau, TE, LV
-M. Gesicki, TE, MIA
-D. Chark, WR, DET

6. Draft: The Packers would need to be open to aggressive uses for their top pick. If it could be traded in order to land a veteran player, they should strongly consider such a move. If retained, high end pass catching talent should be targeted, via aggressive trade-up if necessary.

Conclusion: On the whole, I don't like this approach. I think the Packers are already too leveraged to be able to make the kind of gains they would need to make in order to be serious contenders again with Rodgers. However, if they do it, I hope they go all the way in. No room here for half measures.