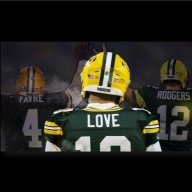 Joined

May 2, 2012
Messages

10,001
Reaction score

2,579
Packers desperately need a deep threat. That makes expending a round one pick on a WR even more imperative. I like Doubs, but he's more of a James Jones type of receiver. What we need is another Jordy Nelson in his prime type of receiver who gets open on deep routes and takes it to the house!
I cannot help but think of a future 2023 Corps that would have MVS still here, with Doubs, Watson, Amari, Toure and Lazard if we somehow managed to keep him as well. I actually LIKE that group especially given a full year of this forged by fire time 2022 seems to be for us. It is a mix of young ascending guys with physical gifts all different, Lazard a security blanket type possession receiver Rodgers trusts, MVS is a guy Rodgers was finally starting to find that touch on deep balls too and MVS was finally starting to click on catching them LOL. Oh what might have been. Toss in a Top 100 draft pick used on a guy that might push Amari or Toure off the active....
oh well not going to be so no sense in wondering what might have been. One good thing about this abysmal year is growing pains are accelerated and we have much quicker readings on guys like Doubs, Toure and even Amari then we might have otherwise.