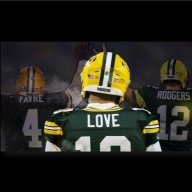 Joined

May 2, 2012
Messages

8,986
Reaction score

2,103
Many of you support the concept of kicking the fiscal can harder down the road than we already did this past season. This could be motivated by the desire to keep Aaron around, Davante or perhaps both. That's fine, however let's put forth some actual numbers beside what this "kicking of the can" down the road truly means. All the $50+M we moved around last year to make things "work" resulting in a failed playoff run have us presently paying numerous players well beyond their now expired contracts for years they won't even wear the uniform.

As I type this 2026 is the first year where we will not have a salary cap hit for players that don't even play for us....so there is your sliver of good news when speaking money.

Other tidbits that are good news is that the cap will continue to rise and grow with each year - however keep in mind that is league wide so while yes that helps us handle our issues it also further expands other teams options as well so relatively speaking it doesn't change us vs the rest of the league. Also we have some just ballooning contracts and massive dead money voided (Rodgers especially) set to come off over the next couple seasons which is good.

However, kicking the can down the road would mean more of the type of things which have us paying the following despite them not even on the team anymore or beyond when they will be...and this is NOT all of them just a few to paint the picture for you.

Kevin King - Green Bay will be taking cap hits for King in 2022 ($3M), 2023 ($750K), 2024 ($750,000), 2025 ($750,000)
Dean Lowry - Presently signed through end of 2022 season, BUT Green Bay will be taking cap hits on Lowry in 2023 ($1,866,000), 2024 and 2025 at $622,000
Billy Turner - Presently signed through 2022, but will take cap hits in 2023 of $1,742,500 and in 2024 of $890,000
Randall Cobb - Signed for the 2022 year, and even if we cut Green Bay will still take a cap hit in 2023 of $1,391,666

So you want to keep Rodgers, tag Adams - awesome...know that for such a fiscal move more of this type of stuff is going to occur...and you have zero right to complain when 2026 rolls around and we are still paying millions for players that have long since retired and are twenty pounds heavier on a beach somewhere.