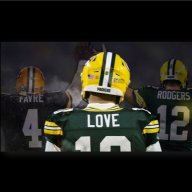 Joined

May 2, 2012
Messages

12,836
Reaction score

4,258
Let's dissect and tear into something which folks argue over how much weight "it" should be given when picking a prospect each year at the NFL draft. That thing is need. Regardless of how much weight or advocate of a Best Player Available (BPA) approach to the draft you are; need is a real thing and where holes exist in a roster a GM has to have a plan (even if it is a poor one) to fill them.

Actively right now one way to tackle this is let's push aside for drafting purposes the three special team's positions; kicker is the only position I advocate at times for a late round pick - however we presently have three kickers in Crosby, Molson and now Eberle (each with their attractive qualities). Our 2022 kicker is on our roster. Punter is vacant but don't draft a punter...and LS we have Wirtel signed so no doubt he will start 2022 with every chance of that being his role.

(FTR Offensive Line is broken down last by positions...)
Now let's push aside any positions that appear to be clearly strong and locked with depth even:

QB & RB are the two positions to me that are clearly the deepest from a starting level player standpoint, but also depth. With two starting caliber backs and then Hill and Taylor behind them - while we could see Gute like a Day 3 guy and pick him, the need aspect wouldn't be there for doing so.

Now for positions that appears we have the starters for, but one could argue need that depth:

CB - Stokes and Jaire appear to provide us with that top two shelf starters...but that CB3, a position that sees a ton of snaps throughout the year even if all is healthy is presently in the hands of either SJC or Ento; doesn't exactly instill confidence for most. *CB3 is a need for sure

OLB/EDGE - Preston extension and Gary's presence opposite of him make this position a lot like CB, no starting spot is needed filled but routinely that 3rd guy sees anywhere from 300-400 snaps at least. Garvin has been progressing and Rivers showed a lot, but many would circle this as a need if making a list of need for sure. *Arguably OLB/EDGE is a need

ILB - The Campbell signing and Barnes being a cheap signing being a ERFA makes ILB top shelf VERY secure. Barnes has been becoming a SOLID off ball linebacker for us and he pairs beautifully with Campbell; we may only have Barnes for one more year if he keeps playing well, but for now I'll embrace it for sure. The one thing is Ty Summers' contract is up after the 2022 season, essentially leaving us with just Isaiah McDuffie as the other person here for the future which makes me say...*lower need, but ILB depth/future is need of sorts

S - Amos and Savage are locks, Savage is going to be looking to bounce back after lessor year last season than prior but still shows immense signs of a very good S for his future. Depth isn't scary bad with Vernon Scott and Gaines both on contract and Henry Black most likely back...BUT none of the depth guys has shown a sign of being a future starter IMO...Safety is a need seeing as Amos is nearing his contract and as well is Savage possibly gone if we don't exercise his 5th year option (deadline to do so is May 2...after the draft). Savage's hit would become little over $7M if 5th year optioned (estimated) and Amos off the books would cover this cost and then some. *So Safety IMO is a need, with Gute and Co. most likely knowing the direction of the future I could see us thinking starter in 2023 and drafting high or drafting mid/late round - but somekind of need is there at depth for sure.

DL/DE - We lost Keke, looks like the Tyler Lancaster experiment is over and who knows what Heflin will give us in his second year (Slaton too for that matter). Lowry played very well for us and Clark is a stud...but arguably we have 2 guys that we know what we're getting. *This is without question a need, and strong enough I could see us double dip even.

Now for positions where we need starters right now...

WR - Yes, Adams is tagged and as I type this like other positions an assumption is being drawn that he will be playing in 2022 for us...so our top shelf starter is arguably best in the league. Opposite of him however is less of a known thing. Cobb is not an outside WR and Lazard does all he does good, but imagine a team where Lazard (who is really a WR3 ceiling type) NOT being asked to be your WR2. MVS is gone...so that 2nd starter outside opposite of Adams is a need for sure...does Winfree blow us away after a promising glimpse (doubtful)...does Lazard make a jump (maybe)...do we sign someone in FA (again to me doubtful...but maybe). *WR2 is a need

TE - This position group is a coin flip argument, and one which you can say has upside presently and be positive or you can just as easily be negative about as well. Lewis is an OL assistance better than nearly ANY TE in the game, he trods along as a receiving option but is usually sure handed at the catch and is savvy at timing releases (just don't depend on him getting more than 5-7 yards LOL). Things were clearly starting to click for Deguara the last part of the season and Dafney continues to show promise when asked more of. Tyler Davis is that deep depth wildcard to me, who has shown chops to be a receiving threat like Tonyan and also has the frame to be a blocker as well. So we have four guys that I'm sure the organization and MLF feel confident about...but we do not have a surefire answer at the second in-line starter behind Lewis or for passing situations to be our in-line TE when Lewis is on the sideline. Tonyan was that...is he resigned cheap due to injury (maybe)...do we dip into cheap FA (maybe)...do we select a Day2/Day3 prospect (maybe). A lot of "maybe" options here, but an all around inline TE can easily be defended as a need


Now let's talk Offensive Line

Overall the OL room has Bakhtiari, Jenkins (Injured), Runyan, Myers, Newman, Yosh (ERFA) all with starting experience - then we have center Menet signed from Cardinals and Cole Van Lanen (2021 6th round draft pick by us). Having 6 guys with starting level play, with 4 of those being YOUNG guys, and the other two being Pro Bowl level types that is good. However, our depth is depleted for sure, especially out the gate and for the majority of regular season as Jenkins recovers from his injury.

Center - Myers is a surefire starter, Menet was a guy many of us liked in his draft class for Day 3 and is a pure center back up type that I feel more confident in growth than Hanson after years of that experiment just not showing much. Center is not a direct need...now a versatile draft pick that has center experience is an attractive thing for sure with Patrick gone and Jenkins hurt (two other backup centers for us in 2021).

OG/OT - I throw these together because it is rare that Gute and Co. has drafted a pure guard in the draft. Typically speaking we like athletic college tackles with measurables (slightly shorter frame and length of arms) that fit moving inside more while still offering tackle experience and ability to move. With the roster presently providing a starting line up of Bakh, Runyan, Myers, Newman, Nijman with Jenkins out - there is zero depth besides Cole Van Lanen behind them. That places this 100% as a position of need and like the other big boy position (DL) could see a double dip even (or FA addition like Dennis Kelly)

Ranking the needs at this moment, with the assumptions that Lazard, Barnes and Yosh are tendered and/or retained in some capacity:

#1a
OT/OG - We need a surefire starter at RT to fill Turner void left. Yosh could very well be it, but like Newman Yosh was serviceable, however if he doesn't take another step we will find our selves wondering how much better could we be with elevated play there. A perfect 2022 world has a Tackle picked in the draft that comes in and beats out Yosh, and Yosh is your swing Tackle back up...or worst case we need a rookie to come in and serve as that without hesitation by our staff, that is a tall task best not laid in a late Day 3 pick.

#1b
DL/DE - Clark and Lowry have nothing confirmed beside them now. Lancaster was a known commodity, albeit a low floor type guy...and Keke is gone. We MUST get a guy added that can and will be able to serve as a depth type guy that as the season progresses can see more and more snaps to rest Clark and Lowry - we cannot expect Slaton alone to make this happen...or place Heflin with lofty expectations IMO.

#2
WR - This cannot be placed above the top due to the high high high WR1 level, Cobb/Lazard/Amari Rodgers all back and the fact we have Aaron "freaking" Rodgers at QB. It is though still a solid need and I argue that we have to get a bonafide prospect/weapon at WR or TE going into the 2022 season for this offense.

#3a
CB3/DB - This role could be a safety with drop down slot or coverage abilities and doesn't have to be a pure CB but could be. We saw in 2021 just how important it is and can be to have a bonafide CB3 on the roster and I look for Gute to not ignore at any round in the draft selecting a DB that in his opinion is by far the BPA, because of how it intersects with need and is a position that is SO CRUCIAL in today's NFL.

#3b
OLB/EDGE - This position and CB are nearly identical in importance in today's NFL, BUT unlike CB we at least have guys on roster behind our top two that have experience and at that even times of production (Garvin and Rivers). Preston is solid now, but between his age and the fact we've seen injuries hit this group before - finding that bonafide future or immediate #3 is something we need.

#4a
TE - For many of the same reasons at WR, but to a lessor degree given the number of guys on the roster and the fact that if we get a WR early I lesson the "desperation" (lack of a better word, it isn't as dire as that makes it seem) to find our next Tonyan (if he resigns...I remove TE almost entirely as need with hesitation due to injury though).

#4b
Safety - This is a guy that most likely projects purely as a safety for the future of what most likely is post-Amos times after 2022.

#5
ILB - Off ball LBs with Campbell and Barnes as starters (Summers and McDuffie as depth) we aren't in dire straights...however as mentioned above getting a future depth replacement for Summers is a good thing and back up LBs can be one of the best place to enhance ST play as well.



Thoughts?