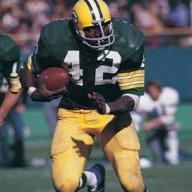 Joined

Jan 21, 2017
Messages

11,342
Reaction score

2,279
Looking at the immediate roster and the next couple of seasons, how might the Packers be prioritizing their positional needs?

1) Tight End: The Packers are not tendering Tyler Davis (though they may bring him back as a ST stalwart), which means that Deguara is the only player currently left at the position on the roster, and he's in a contract year in addition to being very much a niche guy who doesn't fulfill the typical roles of a TE. This isn't necessarily the position that should be addressed first in the draft because of positional value, but it is certainly the greatest need. Round 1 (prospect value allowing).

2) Safety: The defensive backfield is something of a mystery this off-season because of speculation regarding where guys will ultimately land. Is Savage primarily a safety or a slot corner? Might Douglas move to safety? Regardless, Savage is in a contract year and Douglas is a likely cut candidate after this season. Scott and Gaines are also UFA's after this season, if they even make the roster. I would say that this is a day 1 position if I thought there was a safety worth that investment in this class. Round 1 (prospect value allowing).

3) Wide Receiver: GB has Watson, Doubs, Toure, and Melton around for the foreseeable future (if they want the latter two). Watson did enough to assure that he's a player. There's some reason for optimism around Doubs. That's about where it ends. They need to add here immediately and for the future. They could realistically have 3-4 new names on the 53 man roster and 2 would absolutely be the minimum. Round 1 (prospect value allowing).

4) Quarterback: This is a unique position, because it will change dramatically based on how Love performs in 2023. It could be quite low after this season, or it could be the #1 need with a bullet. For the present, I would say it's fairly pressing. With the concussion rules being what they are now (which is a good thing), backup QB's are more important than ever. I'm sure they will sign a veteran, and I would expect a day 2/3 player to be drafted to fill out the room. Day 2 or later.

5) Interior Defensive Line: The Packers are committed to Kenny Clark through 2024 and have a 1st rounder entering his 2nd season. T.D. Slaton seems like a competent depth player and Jonathan Ford is a big unknown. Beyond that, there isn't much on the roster. The depth needs to be addressed, though it would seem like a veteran would make more sense than another young guy given the youth in the room already. Day 2 or later; Round 1 in the case of an exceptional prospect.

6) Cornerback: Again, the defensive backfield is a little hard to reckon with because of the potential for position switches. If Savage is the slot, that lessens an immediate need. If Douglas moves to safety, that lessens the depth. However, it is at least clear that Alexander, Stokes, and Nixon are in for this season, and the former two will be there beyond 2023. As early as day 2 would be fine and day 3 is a basic certainty. Day 2 or later.

7) Offensive Tackle: With the recent restructure to Bakhtiari, the Packers are currently committed but (if Spotrac is up to date) could get out of the dead in 2024 (40M in cap savings, 19M in dead money). It would seem to me that Bakh either shows he's in decline this season, and they eat the money and move on, OR he looks to be back to his old self and they extend him to spread out that cap hit. Apart from him, they will have Nijman most likely starting in a contract year, and potentially Rasheed Walker and/or Caleb Jones sticking around developmentally. So the need is really adding talented depth to succeed Nijman and compete. Day 2 would be just fine and even a 1st round pick makes sense, given positional value, if the right guy is there. Day 2 or later; Round 1 in the case of an exceptional prospect.

8) Edge Rusher: Preston Smith is probably financially entrenched through 2024, and Gary's injury was early enough in the year that he should be back for the start of the season or at least early on. He is a pending FA, but I would expect an extension. Enagbare showed enough promise to be a primary spell guy this season. Because of positional value and rotational flexibility, I wouldn't rule this position out in round 1, but I think day 2 or early day 3 would be fine. Day 2 or later; Round 1 in the case of an exceptional prospect.

9) Running Back: The Packers are set with their top 2 in 2023, and are basically pot-committed to Aaron Jones for 2024. Beyond that, Dillon is in a contract year and there aren't any other backs on the roster who are locks even to make this present roster out of camp. A day 3 pick on a RB would not go amiss to fill out the room and succeed Dillon after this season. However, they could afford to wait just because of the ability of RB's to make rookie impacts. Day 3 or UDFA.

10) Interior Offensive Line: For 2023, this position is set, with Jenkins and Runyan entrenched, Tom and Myers competing at center (I'm projecting), and Newman, Rhyan, and Hanson also on the roster. Runyan is in a contract year, but the pressure of that reality will depend on how Rhyan comes along (or fails to). This is a spot where they could take a guy on day 3 or even not at all and they would be fine. A tackle with interior flexibility would be most efficient. Day 3 or UDFA.

11) Linebacker: Campbell is probably financially locked into the roster through 2024, which in addition to Quay Walker means that the starters are accounted for. Maybe I'll be surprised, but I would guess that Isaiah McDuffie and Krys Barnes are back as backups and core special teamers. To me, that means that adding day 3 options or UDFA's should be sufficient. Day 3 or UDFA.