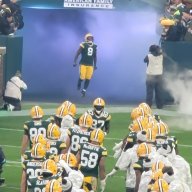 Opinions are like A-holes, we all have one.
Joined

Oct 30, 2012
Messages

27,215
Reaction score

4,930
Location
That doesn't happen on defense; there's nobody out there to make a good corner into an great corner, you just need to make sure you keep the great corner.
A great defense doesn't just start at CB. IF you have no pressure or ability to stop the run, from the front 7, it doesn't matter who you have playing in the secondary, you are goingt to get beat. I would rather have 3 above average to average CB's, than pay one $20M/year and not have money to spend on the rest of the position.
The Packers are lucky to have had Alexander, Stokes and Savage on rookie deals, as well as Douglas on a cheap FA deal in 2021. Unlike the QB position, where you are only paying the 1 player, overloading on the CB position on 1 of 3 CB's, may not be the smartest thing to do IMO. Now if the Packers weren't already paying Rodgers, Bahk, Jones, Clark, Campbell, Smith and Amos a large share of the cap money, this would be a no brainer.
The Packers may decide JA is worth paying and keeping, but I hope they are 100% sure about his shoulder, his desire to play in GB and even more importantly, what that does to the cap down the road.