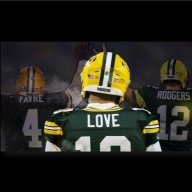 Joined

May 2, 2012
Messages

10,973
Reaction score

3,102
So with the Lions defeat my off season addiction of draft prospects, roster management speculation and future decision debates is officially ignited....not ten minutes had passed last night and my phone dinged from two fellow Packer fans asking essentially.... "So, what are our needs for the 2023 draft?"

It is NOT an easy question to answer at this given time, Rodgers' future is not decided, many contracts are up, others must be re-worked or cut (Jones)....

This is merely my opinion presently for how the future needs to be decided and the needs presented roster wise in the post-Rodgers era (which is my personal most likely scenario we are facing):

To me Green Bay's needs are odd, I say that because positional value has two of our "bigger" needs as lower on the value spectrum and that is tight end and safety.

If you forced me into ranking our needs right now, I'll list below...but what I'll list is also relative to prospect values as I see them (draft classes), positional value, where we pick and what I've outlined I suspect might happen:

Edge *(only above TE and S due to positional value and need)
Offensive Tackle (only above TE and S due to positional value and need)
Tight End
Safety
Wide Receiver
Defensive Line
Middle LB
Cornerback (this could cruise nearly up to the top IF we do decide Rasul to Safety is best for team)
Quarterback (insurance policy time)
Running Back
Kicker


Expansion on thoughts:

Safety - Heading into 2023 we have an underachieving (albeit better of late) Savage still on contract (fifth year option pick up was BAD decision in hindsight), Tariq Carpenter and Vernon Scott. Amos, Ford and Leavitt are all hitting FA. Fact is money may keep us from Amos...Ford I think might be a resign candidate and Leavitt could also be back cheap for ST play...but a true bonafide starter would be incredibly welcomed in GB and the year to possibly make it a rookie is when we are doing a reset year post Rodgers. There are some solid safeties in this draft too...and a few that could be starters for us into Day 2...maybe 4th rounder on Day 3....this position just isn't one typically teams go high on and has proven over the years to not need as high a draft equity to have good players. Could this be the year we see Rasul make a shift to Safety if GB sees a top flight CB setting there? I personally would embrace that thought process and could see it playing out that way. I struggle to draft a Safety in the first round if we stay at #15 (I honestly am unsure any of this year's prospects are a top 25 guy)...but 100% if we would trade back to that 25-31 range (no 32 pick this year in 1st) it becomes more palatable.

DL - Losing Reed and Lowry opens up a pretty decent need unless Wyatt, Slaton, Ford is a group we strongly feel can solve it with just UDFA or bottom signings in FA.

Tight End - Lewis isn't guaranteed to be back, Tonyan either...we have the H back style Deguara back and the experiment that is progressing (albeit slow) in Davis will be here too. Drafting a day 1 TE1 is a dream and there IMO is only one guy that I'm 100% confident would be that in Michael Mayer. Sitting at #15 is rich historically for a TE...but also is right there where some of the better ones have gone. Positional value here like Safety says don't do it...however, especially a team losing Lewis and Tonyan most likely adding a Mayer that can block and catch immediately out the gate could lesson the offensive destructive nature of losing both at once. No other TE I have graded with a first round pick, but I do really like a few guys in that Day 2 level which I'd understand the gamble of not going Mayer in round one in hopes of nabbing (Washington, Kincaid or Kraft to name a few) on Day 2 (and pair maybe a Whyle or Durham type late Day 3 with).

EDGE Defender - We are set for the future with Gary, who better get signed IMO to long deal...Preston's deal is very good and very affordable for a starting edge that is still producing but I suspect if we hit reset/rebuild Preston might be a guy we move (especially if he wants moved). Kingsley has shown immense promise but I really would like to leave Day 2 of this draft with an edge defender being one of our picks. It is quite a solid draft IMO and I like quite a few guys (for another thread). At #15 you're in that solid territory of a high level edge rookie could potentially be added. Positional value places this spot VERY high, despite it not being as big of a need roster hole wise this position is in the Day 1 discussion, especially at #15 should we stay there.

Wide Receiver - Watson and Doubs both have shown enough promise for me to really foresee a future where those two pair as WR1/WR2 on any given Sunday. Toure may someday be that WR4 type guy, but what we are lacking is that clear 3rd option and if we rebuild/reset I could easily justify spending some draft capital on a WR. I personally don't necessarily believe using a 1st rounder would be the best plan at #15, but also would understand should a WR name get called. I personally would like a Day 2 addition...think Cedric Tillman, Mims, Hutchinson, Hyatt, Parker Washington, Rakim Jarret or Mingo...we can be open to all WR types (slot, smaller, burners or big blockers).

Offensive Line - Jenkins best spot is guard, Runyan and Newman both I think came in hot young but haven't progressed as we hoped, Yosh is going to price himself out of GB I think. Bakh is still a top 5 LT when playing, but if Rodgers leaves does he retire or request trade? Personally I strongly would love a bonafide Tackle that could start at RT or potentially LT day one being added...which means most likely first or second round pick. I know it isn't the **** positional pick, but at #15 we could add one of the three headed Tackle prospect monster of Johnson, Skoronski or Jones. All could start day 1 at LT IMO...or we could pick up in second - wait I'm getting into talking prospects and not just team need. Bottomline this like Edge isn't from a roster hole perspective (we could return Bakh, Jenkins, Myers, Runyan, Tom - with Rhyan, Newman, Walker, Jones, Tenuta all in house too)....BUT upgrading a positional group that didn't play as well as we need should always be something we look at. Positional value and where we pick makes this a viable Day 1 thought IMO.

Cornerback - I really like this class of CBs and I honestly think CB strength in prospects could cause Gute and Co to go this route, and move Rasul to Safety as a real chance at the answer. Is this a need position no if Rasul stays at CB...if we move him we need to add a 3rd CB behind Jaire and Stokes absolutely. Depending on the vision forward this could be a Day 1 pick option or all the way to Day 3 with justification.

Running Back - I said it before, it was the smarter decision to pay Jamaal to be here for two or three years at $3-4M a year than giving Jones $12M/yr.....and I personally just don't see a world we possibly hit a restart in GB with Jones deal still here. I'm not a fan of the structure of a restructure pushing most likely a lot into the future and if we are starting a rebuild without Rodgers I could see Jones carrying some decent trade value especially sine I believe we'd be on the hook for about $9M of his 2023 hit of $20M. 3rd round I think is higher than we should but could understand for the right prospect especially if we move/cut Jones due to contract. This is a need but not MASSIVE, Dillon/Goodson/Taylor I suspect if Jones leave will be the main three plus a draft addition.

Quarterback - Justified to start thinking of it if the right one is there in the 4th round or later. Whether it is to be the "new Love" to Rodgers or potential back up option if Love falls on his face.

MLB - We may choose not to resign Barnes....Quay is starting to worry me with his head screws coming loose and Campbell is at an age we could be flirting with declining play. This is a position of value type thing...right guy falls anywhere outside Day 1 I'd get the logic of grabbing but truly I think Day 3 type need is present.