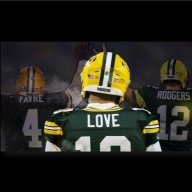 Joined

May 2, 2012
Messages

11,662
Reaction score

3,509
I've dabbled sharing some thoughts elsewhere and I'll possibly bring them over to here...but I gotta start sharing thoughts of some favorite early prospects I think could be on Green Bay's radar due to their position and potential roster needs/wants for next year.
I will not do any mocks here, this will be solely for prospect profile discussions.
Tight End is a position I could see us facing some serious need at depending if Lewis decides to finally hang it up....Tonyan goes elsewhere...we could go very quickly to needing a guy that can come in and deliver.
I have TWO MASSIVE PROSPECTS I LOVE.
LOVE
.
LOVE
!!!
You must be logged in to see this image or video!
Michael Mayer
is a BEAST among boys at 6'4' 260-ish pounds (swear that seems light at times)
In just two seasons he has amassed receiving numbers of a tight end that you'd typically hear is just a pass receiving threat incapable of blocking yet...with 113 catches, 1290 yards and 9 TDs this dude can find the open spot, exhibits soft hands when needed, his body control to high point is uncanny for a big guy and folks...his foot efficiency makes him seem faster and perhaps more agile than he really is.
As a pass blocker folks this cat in two seasons (freshman and sophomore years) has given up ZERO pressures and ZERO sacks. ZERO. While I'd say his pass blocking is as refined as one could expect a TE to be, his run blocking suffers only slightly due to his hand strength can be improved and his high cut frame limits him just a touch...but this body can and will impose himself in the run game.
Michael Mayer is the most exciting TE prospect in years for me because of him being the ENTIRE TE room rolled into one guy. He can block, catch, quick enough to bust the seam when needed and smart enough to read a defense.
I honest to God don't care where our first round pick washes out at, if we use it on Mayer I would not hesitate to claim that pick is an A grade without hesitation. I don't care if we would trade up to make it happen...I believe he is truly going to be that elite TE that the league usually only has one or two guys like at a time.
You must be logged in to see this image or video!
The second TE I am just gushing over and am just slightly less excited about is
Josh Whyle of Cincinatti
...and where he is slighly less of a blocker he is that much more of a burner and pass threat than Mayer (and Mayer is no slouch remember). This cat is 6'5' 245 (bet gets around 250 for this year) and has been a consistent above the rim and reliable target for Ridder the last two years. With Ridder gone and Alec Pierce as well I look for Whyle to put up at least 500 yards this year and possibly more as arguably one of the Bearcats' deadliest receiving threats for sure. This incredible TE is said to flirt with sub 4.6 speed, pairs that with a 35 1/2 inch vertical and nearly a ten and a half foot broad jump....just for reference those measurables have him building easily a 8.00+ RAS.
I know some will say I'm crazy, but I 100% say he is end of 1st round potential but I'll lock in a 2nd round grade on him right here today. I truly believe in him A TON! (Edit 1/17/2023 - Whyle was a guy I had pegged for a breakout year and IT NEVER HAPPENED. I truly still feel he has massive potential written all over him but he is a Day 3 type based on the performances and tape he put down this year.)
Last edited: