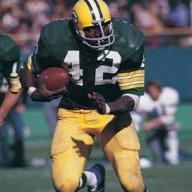 Joined

Jan 21, 2017
Messages

11,610
Reaction score

2,554
As I get a better feel for the class, here are my overall thoughts:

1.13: L. Van Ness, ED/DL, IA- The team has cast a vision of this guy in which he's Rashan Gary, athletically, but Za'Darius Smith in terms of role. The testing and the tape totally bears that out. He could end up taking a little time to come along, as Gary did, but it will help that he's versatile. The ability to align him in multiple spots on the LOS will help get him on the field earlier, making an impact.

2.42: L. Musgrave, TE, ORST- As I will reiterate below, I think the Packers found two tight ends that they can use interchangeably-- sort of the offensive version of a two high safety defense in which both DB's can be used in the same ways. However, Musgrave's particular niche will come as more of a downfield receiver, and I think he can end up replacing a lot of Lazard's snaps in the offense as a big slot.

2.50: J. Reed, WR, MSU- The Packers have stated that they had Reed at 4.37. Given that he's ~ 5'11", 190#, it makes sense that this would be their choice of the "small" wide receivers. Matt Harmon of Reception Perception is really high on this player, among with many other draftniks. Notable to me was that he said Reed's ability to beat press was the best in class by the percentages. My guess is that he will primarily be a slot receiver in 11P, but there is no reason he can't also get snaps outside.

3.78: T. Kraft, TE, SDSU- Though Kraft is probably a better blocker than Musgrave, I think they will be used in interchangeable ways in order to keep the defenses off-balance. Whereas Musgrave's unique niche will probably be vertical shots, I am guessing we will see a lot of Kraft in catch-and-go, YAC situations.

4.116: C. Wooden, DL, AUB- Wooden reportedly played in the 280's and is back to that size now. He slimmed to 273 to boost his forty time. He has the frame to carry a lot of good weight. I believe they see him as an heir to Lowry's role as the primary 5T/4i. He's developmental to a degree, but it seems that the Packers are intent on using this season, with all of its dead money, as a developmental season.

5.149: S. Clifford, QB, PSU- My guess is that the Packers reached down their board to make sure they got Clifford because they don't want to spend on a veteran QB2. From the sounds of things, they targeted him more for his smarts and ability to be a good presence in the QB room and on the sideline. In other words, they decided to take Clifford a round early rather than pay a few million to one of the few remaining veterans on the market. They were likely incentivized to reach by the run of 5 quarterbacks that went right before their selection.

5.159: D. Wicks, WR, UVA- This selection is a bet that Wicks is closer to the player that we saw in 2021 under OC Robert Anae than the one that came back in 2022 under Tony Elliott. He has similarities to both Davante Adams and J'mon Moore as a prospect, and I think both of those outcomes are in his range. On the high, high end he could maximize his movement skills and improve his hands and become a good starting WR. On the low, low end he could fail to overcome drop problems and wash out of the league quickly.

6.179: K. Brooks, DL, BG- Brooks is being hailed by many as a steal in large part because inflated MAC production and PFF overhyped him as a prospect. He's a strange player. He has a DT body, but played primarily on the edge. He racked up a ton of production, but in what is certainly the worst 1-A conference in the country. He has really short arms too. I don't mind the bet on his production this late. Maybe he moved inside full time and thrives. But I won't be shocked if he fails to make it out of cmap.

6.207: A. Carlson, K, AUB- Carlson initially felt like another reach to me just to try and fill a need with a rookie rather than a more expensive veteran. That may still be true, however I've learned a bit of context that helps explain the rationale here. In 2020, Carlson was one of the best kickers in CFB (20/22 on FG's; 24/25 on PAT's). Then in 2021, he was 14/21 with two kicks blocked, before tearing his ACL in his non-kicking leg against Miss. State on 11/13/21. He made it back for 2022, but was unable to regain the accuracy that he demonstrated in 2020. The injury doesn't explain everything (e.g. he still had 4 true misses in 2021, blocks aside). But my guess is that the team believes that with another year removed from injury, they could be getting a much better kicker than what he looked like in 2022. For what it's worth, his 2020 season was basically as good or better than anything Jake Moody or Chad Ryland ever did.

7.232: C. Valentine, CB, UK- The odds that 7th round picks will ever amount to anything are very small, but Valentine has a short given that he's young and has all of the physical tools. From that standpoint, it's a good pick.

7.235: L. Nichols, RB, CMU- This pick, much like the Wicks selection, is a bet on the 2021 version of the player. Nichols led 1-A football in rushing that season and added 40 receptions. However, he lost both tackles to the NFL (Bernard Raimann and Luke Goedeke) and that super heavy workload (381 touches in 13 games) caught up with him in terms of injury. If he's healthy, I think he's definitely a draftable player, though expectations should be tempered (again-- the MAC sucks). The high end outcome here is that he shows enough to replace A.J. Dillon as the interior grinder who can catch.

7.242: A. Johnson Jr., SAF, IAST- 2022 was Johnson's first season in a safety role for the Cyclones. So I am sure that the hope is that with more time, there will be untapped potential. He has enough athletic prowess for that to be realistic. Again, 7th rounders are rarely going to hit, but the Packers gave themselves better than normal chances because of the athletes they targeted.

7.256: G. Dubose, WR, CHAR- Dubose is a ball winner who is still learning to play the position. I think he's an obvious practice squad candidate. But again, he's a good athlete (8.79 RAS) and he's only 21. So the odds of success is low, but the potential is there because he has the tools to develop and the time to do so.

Overall: I like this draft a lot. I was hoping for offense, but the board didn't fall that way. The league was not as high on JSN/Kincaid as the public and the top two OT's were gone. I love how they attacked the pass catcher position on days 2/3 with a lot of quality options. I also think they gave themselves a chance to hit big in round 7 with 1-2 of those lottery tickets.