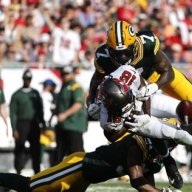 Joined

May 12, 2014
Messages

4,556
Reaction score

830
Lots of talk about wide outs but I wanted to put them in one place. My assumption is we don't move up and Olave, Williams and Wilson are gone. We take two within the 1st 2nd and 3rd rounds. And we can move down with a first, but not too far. One first we should use on another position. I'm going to list them first (I'll miss a few/bunch so add who you want to) and then I will make my two picks and two backups if they are not there.
1. Burks. Not sold on him. A poor man's Metcalf. Would rather trade down for someone else.
2. London. Not sold on him either. No speed or separation. Would rather trade down for someone else.
3. Dotson. Probably very good and reliable.
4. Pickens. Sounds like a very good pick.
5. Watson. Sounds really interesting. Speed, tall
6. Moore. He caught a lot of passes.
7. Pierce. Caught more than 3 balls in only 6 games.
8. Thornton. I liked his tape. Good hands.
Not sure what the fallout will be. If we use one first at another position; then will these receivers be there with our 2nd. Maybe, if we can trade the 22nd (exchange firsts and get a higher 2nd to boot or two high 2nds).
So there are a lot more receivers. But based on this, I like Pickens and Watson. I like Moore for a 3rd option and Dotson. And I just fell in love with the tape on Thornton though nobody puts him way up there.