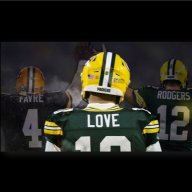 Joined

May 2, 2012
Messages

12,904
Reaction score

4,305
So it appears we are heading towards a draft regardless of what happens; Rodgers stays, goes...Adams is tagged or not....where WR is a legit and bonafide need, arguably more than any year in the past. Sitting presently with only the following:

in order of offensive snap counts:
6,296 snaps - Randall Cobb - over $9M cap hit, which is just LUDACRIS at this point in his career and most likely should be cut.
166 Snaps - Juwann Winfree
103 snaps - Amari Rodgers
60 snaps - Rico Gafford
0 snaps - Chris Blair

This is my list of WR prospects presently that I like for Green Bay - which of course doesn't mean this is an overall list of of ALL WRs in the draft or even all the wide receivers I like in the draft. These are the ones right now I think would fit Green Bay well.

Burks, Williams*, Wilson, Olave, Dotson, London...these are the "top 6" in most circles in this draft. Personally, I am staying away from Williams as we are not in the position of being able to draft for the 2023 season with him, excellent talent but that injury is going to slow down his 2022 chances of impact or playing in general.

Of "the big 6" my favorites are Chris Olave and Drake London. Those are the two guys that say it gets to pick 20 and all are gone but one of them and Gute likes them as much as me, I'm gonna start placing some calls to see what kind of deal I can do...especially with the knowledge of some comp picks coming the future 2023 draft for guys like (Adams, Campbell, MVS, King, Patrick, Douglas, Bojo, Tonyan...)

The "Big 6" aside here is just an overall list of some of my present favorites....testing and measurables could tweek this somewhat in coming weeks:

David Bell - 1st Round Grade
I like Bell, even when Rondale Moore was around this cat was flat producing. May not be the playmaker type like a Moore is, but he produces through his routes and body control in the air not manufactured touches. A true #1WR potential from a guy that has continued to produce throughout his college career. Honestly, he is what Michael Pittman was for me two drafts ago...that guy that some/many are overlooking as a second rounder that IMO is a clear cut first rounder.

Christian Watson - 2nd Round Grade
Watson despite coming out of North Dakota State, showed up big time in the Senior Bowl against "too good for him" competition. His size is just awesome standing at 6'5' and said to flirt with 4.40 speed this cat could be the steal of WRs this year IMO. I presently have him targeted as my #1 option of most likely 2nd round WRs we could have a shot at picking 59th.

George Pickens - 2nd/3rd Round Grade
It's his injury and lack of getting to see him truly be an offense's centerpiece for me that holds me back from saying he is even a clear 2nd rounder. Is he very easily a top 10 WR in this draft, yes. The intangibles are there, the size and skill is there...but we are just now about a year out from his ACL tear...HOWEVER that said the combine, which he is said to be a full participant, is perhaps more crucial for him than any other WR. He could quickly explode up the draft boards if his explosion and agility has taken no hits with his injury. Keep an eye on his testing perhaps more than any Day1 or Day 2 WR.

Kyle Phillips - 2nd/3rd Round Grade
Kyle Phillips to me is a guy if we want it is going to take our 2nd rounder or a trade up like we did on Amari. Many slept on this guy, but watch his tape...and then watch what he did at the Shrine Bowl. This dude gets open, plain and simple. The hold back on Philips is he seems to be purely a slot guy, but I'm telling you I think he could be that Cobb like cat for the first half of his career many hope Amari will be, but to me Philips is so much more a pure WR than Amari, his route techniques are through the roof and obviously isn't built like a RB like Amari. They could serve as quite the dynamic 1,2 punch in the inside.

Jalen Tolbert - 2nd/3rd Round Grade
I've gone a touch cold on Tolbert but at the Senior bowl when coming up in competition (played at South Alabama) his speed jumped at people and he continued to win at nearly any drill thrown his way no matter who he was up against. It's tough to gauge just how good or what Tolbert's ceiling is...he seems to have everything you would want from a WR, yet doesn't have that refinement - or high level competition production.....BUT when given a chance against higher level schools he did produce putting up over 100 yards and a TD against both Tennessee and a good Coastal Carolina team in 2021 at the end of the season. You put up 1,474 yards and 8 TDs...there is something there for sure.

Romeo Doubs - 2nd/3rd Round Grade
Doubs is the first one that might raise some eyebrows for some with me believing him to be a true second round worthy pick. Doubs is 6'2' and is expected to be in the 4.3s times. Mix in his agility should do quite well in the cones, I really like a lot of what there is in this young man. Put up over 2,100 yards the last two years, 20 TDs and averaged over 15 ypc....I could see him threatened defenses similar to what MVS did for us, BUT I see a much more polished route runner and hands skilled WR coming into the draft than I did in MVS. I see a guy that has perhaps a lower starting floor than you might want with this high of a pick, unlike Pierce (below), but has a much much higher ceiling. Added bonus, his acceleration and speed served him well as a punt returner - bonus role to compete for.

Alec Pierce - 4th/5th Round Grade
He is a gritty, grimy and fighter - but is not to me a big play or ask to win a play type guy. He depends on sound play calling, being where he is supposed to be and QB doing his part. To me he is a redundancy of Lazard...but say we don't bring Lazard back or we look to add special team capable depth in our WR room that has a high floor but low ceiling Alec Pierce is perfect for that role. Don't get me wrong I like this kid, I just don't see the ceiling I want if he is the first WR I pick in the draft...I am betting there are WRs that go after him that will have that higher ceiling type playmaker than him that are more of a gamble sure, but one I'm taking over a sure high floor type like him.

Justyn Ross - 3rd/4th Round Grade
Ross is an enigma. Freshman year he led the nation in yards per route ran...has a massive catch radius and tremendous ball skills....honestly he really SHOULD be delivering better production. So was it just system, is his time and growth still coming...is he like Rashan Gary type that college production lacking doesn't mean he won't excel at the next level? 2021 was supposed to answer a lot of this, but didn't and he ended his season touch early due to stress fracture in foot that needed surgery.

Charleston Rambo - 3rd/4th Round Grade
After transferring to Miami, all Rambo did was break Miami's single season record with 79 receptions. Along the way he put up 1,172 yards and 7 TDs...playing ranked opponents three times he struggled the opening weekend against Alabama for yards but still put up 7 receptions that day, Pittsburgh he produced 7 recs/101yds/ and against NC State dude put up 9recs/127yds/2TDs. Honestly a lot of the success Miami saw this year was due to in large part Rambo's new presence down there. This young man's hands are ready, his route running is while not the best in the draft class is a very strong tool in his basket...illustrating that at the shrine bowl in 1-on-1s often. A smooth savvy route runner almost can lull DBs at times....very curious to see where some of his testing comes down at especially his vertical and cone drill.

Jaquarii Roberson - 5th Round Grade
Jaquarii is another guy I'm higher on than some for sure, but I just love his feet awareness and hands mixed with excellent route running. His a good sized slot experienced guy that I think has the hips and sinking ability in his breaks to excel lined up anywhere despite where WF played him a lot. It's hard to find any real holes in his game and he quietly produced consistently there at Wake Forest. I'm praying I'm not misjudging him like I did a Demon Deacon WR before in Sage Surratt (dude was MUCH slower...like death crawl slow)...but Jaquarii has much quicker feet and clearly when the ball is in his hands there is an acceleration burst there that is attractive.

Few other late Day 3 guys I don't dislike as projects also: Khalil Shakir, Velus Jones Jr (a guy I want to label a sleeper), Jerreth Sterns, Danny Gray and Dontario Drummond.
Last edited: