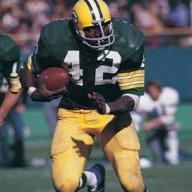 Joined

Jan 21, 2017
Messages

10,455
Reaction score

1,387
You're talking about veteran quarterbacks while conveniently ignoring the going rate for first year starters in this league for some reason.
Let me spell this out for you, since you seem to be having a hard time.
"Partial" is an adjective. It describes something that is "in part" or "not in the whole amount."
So when we say that the Packers could see "partial" benefit from Love's rookie contract in 2022, that's what we mean!
20M spent on the QB position between Rodgers' dead money and Love's rookie deal is (get this)
more
than what you'd pay if you only had a QB on a rookie deal, BUT (and here's the kicker-- don't miss it) it's
less
(this word carries the connotation of fewer or smaller) than the FA market rate for a good quarterback.
Maybe read this a few times through and see if it clicks for you.