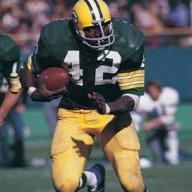 Joined

Jan 21, 2017
Messages

10,455
Reaction score

1,387
I'm going to suggest a thought at to what Gutekunst is doing in this draft, and people can decide for themselves if they think I'm right. But right up front, this isn't a defense, it's a stab at an explanation. You could agree with what I think here and still think that this was a bad approach.

Gute is collecting the pieces that LaFleur wants/needs to run his offense

Greg Cosell was on with Ross Tucker today talking about the first round. He said that he believes Jordan Love to be an ideal fit (stylistically-- obviously we don't know yet if he will be good) for LaFleur's offense. He suggested that perhaps LaFleur was asking for an heir apparent who would do a more faithful job to run the offense as it was called, rather than ad lib or go off-script. I think that's a good guess at the motivation, as well as just the realities that Rodgers turns 37 this year and they must really like Love.

Before coming to Green Bay, LaFleur's offense really started to click in Tennessee when they got Derrick Henry rolling in the running game. The presence of a hulking, one cut runner with breakaway speed provided the foundation for the heavy play action offense that he wants to run. In terms of style, size, and athleticism, A.J. Dillon is as close to Henry as you will find anywhere. I am not saying he's as good-- I don't know that. But he is a shockingly close facsimile, who we can guess he wants to use in the same way.

One of LaFleur's "cousins" in his coaching family tree is Kyle Shanahan. Shanahan uses a fullback far more than normal in today's NFL. One of the ways he's so effective with it is by employing a guy, Kyle Juszczyk, who is a legitimate threat as a receiver, but who can also block the run. This allows him to run or pass effectively out of the same personnel, without subbing out and telegraphing run/pass to the defense. LaFleur tried to turn Vitale into that guy last year and it didn't work. He wasn't that good of a blocker and he didn't excel in his opportunities to win in the passing game. Josiah Deguara profiles to that role.

So again, I'm not telling anyone this is a great draft, a terrible draft, one they should be excited for, or one they should quit the Packers over. But it went off script early and has stayed that way and I think I know why they've made the decisions that they've made.