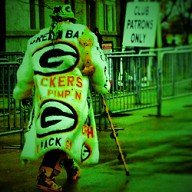 Joined

Dec 29, 2015
Messages

1,242
Reaction score

230
I'm glad you noticed this too. This has been driving me crazy since...I don't know...the Holmgren era!!!

I don't know if its a pride thing, but Sherman, McCarthy, and even LaFleur all are under the impression they have the perfect game plan, and when things deviate from expectations; they all get frustrated.

No adjustments, seemingly no backup game plans, and zero contingencies when facing in game injuries.

Holmgren and most HOF coaches, don't rest on their laurels; they adjust to WIN the damn game.

There will be no more excuses going forward for Matt LaFleur entering Year 4.