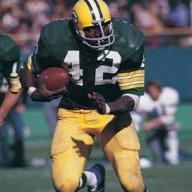 Joined

Jan 21, 2017
Messages

11,549
Reaction score

2,467
This offseason presents the Packers front office with a pretty huge decision.

They need to decide what they're going to do with Aaron Rodgers.

Option #1 would be to use cap trickery (voidable years, bad extensions, restructures, etc.) to push their bad cap situation further out one more season so you can keep Rodgers and try again. It wouldn't make sense to do that if you had to gut the roster. The pro is obvious-- you keep an MVP quarterback and take another shot at the super bowl. The con is also clear-- you pile up more cap pain for yourself down the road and you have the opportunity cost of not trading Rodgers for a bunch of assets. The other consideration is that, even with a lot of creativity around the cap, it may be impossible to keep everyone you really do want to keep.

Option #2 would be to accept this as the end of the Rodgers era and start trading/cutting players, accruing capital, and ushering in the next phase of Packers football. The pro here is that you get your cap pain out of the way and you gain a lot of resources towards the rebuild. The con is simply that you no longer have an MVP caliber QB and a whole host of other great players.