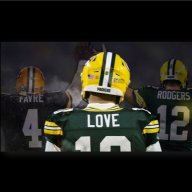 Joined

May 2, 2012
Messages

12,138
Reaction score

3,818
In other news I just saw that apparently Green Bay made a new offer for will fuller. No details yet.
Has been said that they are asking for a 2-3 round pick and a late round. Apparently gutekunst is at the 4th round pick. Take it with a grain of salt
But the beat writer for the Texans is pretty credible and has good sources.
However, as many of us have been saying this team's main obstacle between having a legitimate chance at the SB and not isn't our WRs....albeit I'm a HUGE fan of bringing Fuller in - sucks it will be a one year rental but whatever....the real obstacle is the fact as
@Dantés
pointed out we CANNOT stop offenses like Rams run, 49ers run, Minnesota ran yesterday...add Julio Jones and Fuller to our WR room, it doesn't do anything to help this defense with HOLES.