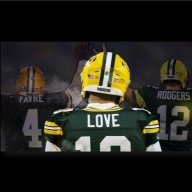 Joined

May 2, 2012
Messages

10,973
Reaction score

3,102
Buddy and mine that always try to have some Packer discussions had this EARLY season conversation....

What one or two players so far have exceeded your expectations and what one or two have underachieved or failed your expectations?

Exceeded:

It seems odd having him on the list because I was high on him pre-draft and post-draft but Doubs through injury issues has had far more chances than I assumed he would this early and is on pace (EARLY) to greatly exceed my expectation of stats across the board for a WR.

The other guy for me was between Tonyan or Jenkins....both battled through injuries to get back "arguably ahead of schedule"...but I'll give my nod to Jenkins given the banging role an OL has to do and to do it so quickly after a severe injury is incredible and a testament to all the recovery therapy that he had.

Failed/underachieved

Savage...I'm sorry but I'm beginning to be quite unhappy with our decision to pick up his 5th year option at this point. All the 5th year millions I'd rather see go to keep Amos here another year than pay an underachieving safety for a 5th year...

Suprisingly I'm going to go Reed here. He has not played bad, but I truly envisioned his presence keeping Lowry from the field more, but so far Lowry has been our second best interior DL for sure IMO behind Clark which surprises me.


Who you got?