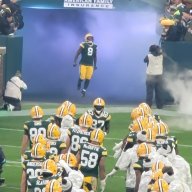 Opinions are like A-holes, we all have one.
Joined

Oct 30, 2012
Messages

28,976
Reaction score

5,925
Location
Aaron Rodgers: I don't care if he's gonna be 40 by the end of the regular season. He's deified by Packers fans everywhere, he didn't show up against Minnesota, and barely did against Tampa Bay. The INT not only was his fault this past weekend, but I couldn't tell you with WHERE he threw that ball what he thought he could do with that throw and get a positive outcome. This was a Favre into triple coverage type mind boggling throw.
Really? So a QB that is working with probaly the top 5 worst group of receivers in the NFL and you are disappointed? Don't get me wrong, I like Doubs, but he's a late 4th round rookie. If he is your leading receiver after 3 games, doesn't say much for the entire group. I think Rodgers has done a pretty good job, with what has been put around him to work with.
Complaining about an interception by Rodgers and comparing it to Favre moments? Please!
BTW....Rodgers is going to turn 39 in Dec., not 40. Not many QBs in the history of this league have played at his level, yet alone at his age.
Careful what you wish for, Rodgers will be gone before you know it and when he is, guessing you might begin to realize just how good he is/was.