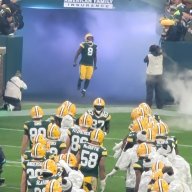 Opinions are like A-holes, we all have one.
Joined

Oct 30, 2012
Messages

30,605
Reaction score

6,841
Location
I don't see a top 40 or 50 either. But that's not necessary, if the results are spread out more than on one player.
Agreed. I wasn't implying that the Packers won't win with that type of WR room, just that it is wide open for a rookie like Doubs or anyone else for that matter, to be impactful each and every week.
I read an article this morning about the Chiefs and comparing their WR room to something similar to the Packers and then concluding the obvious, when you have one of the highest paid and performing QB's in the NFL, that is what ultimately can happen, cap has to be allocated elsewhere, since that better QB should be able to do more with less. Ideally for the Packers, both Doubs and Watson are bonified 1 and 2 receivers and for the next 4 seasons, provide the Packers with quality play, at a reduced price.
If Tampa Bay can ever get Evans, Godwin, Jones, Perriman and now Beasley, all healthy and game time ready, look out. That is one impressive WR room IMO.