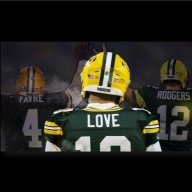 Joined

May 2, 2012
Messages

10,417
Reaction score

2,817
Before OTAs and pre-season get started lets' predict the 2022 seasons we all foresee for the 11 draft picks of this draft.

My predictions, assume roster health non-influencer:

#22 - Quay Walker ILB - Makes 53 - By week 8 he is receiving more snaps per game than Barnes on average - Finishes year with 80 Tackles minimum - chipping in 2 sacks and either a FF or an INT at least.

#28 - Devonte Wyatt DL - Makes 53 - By mid-season he/Reed/Lowry will all be receiving similar snap counts (if all are healthy of course) - Finishes with 20+ total tackles, 3 sacks and down stretch of final eight weeks will be mounting pressures routinely in games from the inside.

#34 - Christian Watson WR - Makes 53 - Takes sometime of course, but by seasons end I see at minimum an MVS type role in the offense if not more. - Finishes season with 50 receptions 770 yards and 7 TDs

#92 - Sean Rhyan OL - Makes 53 - Becomes the starting RG in place of Newman before Week 6 if not out the gate. 12 starts along the OL.

#132 - Romeo Doubs WR - Makes 53 - Looks more comfortable and fluid than Watson at times, but just won't get a ton of looks due to weapons ahead...but when bell is rung for him he answers it fairly consistently. Finishes season with 30 receptions with 475 yards and 4 TDs

#140 - Zach Tom OL - Makes 53 - Battles for RT and some argue should have been given it. In the end he is a reserve Lucas Patrick, ready to plug in at ANY of the spots including center if need be.

#179 - Kingsley Enagbare - Makes 53 - Battles and makes it where neither he or Garvin are the clear #3 or #4 if we bring in a veteran as I still think...but as our roster sits now of the 90 I predict he finishes the season with about 33 Tackles - 5 sacks and two FFs

#228 - Tariq Carpenter S/LB - Makes 53 - is one of our top 3 in Special Team snaps taken by end of the season and shines in that role. Plays some sub packaged roles for Barry and the defense and finishes on that side of the ball with 30 Tackles - 1 Sack - and tosses in a few PDs as well.

#234 - Jonathan Ford DL - Does not make 53 - I predict Heflin gets the PS nod over him even and he doesn't even earn a Packers PS spot.

#249 - Rasheed Walker OT - Does not make 53 - Does get a PS spot, comes up depending on injury and may accrue some active roster days but won't take any in game snaps rookie year.

#258 - Samori Toure WR - Does not make initial 53 - Excels in the pre-season and becomes a darkhorse fan favorite for a roster spot, but simply not the space. He gets a PS and GB even protects/spends some capital to keep him in house after a strong training camp and pre-season. 2023 is his chance after the likes of Watkins and Cobb are no longer here.